About us
Parentune.com is the most rapidly growing proparent community. It supports parents through relevant advice, insightful blogs, and useful tips to help them do more for their child. The only such community of verified parents, it helps parents connect with like minded parents, access useful applications, find relevant information, validated by fellow parents and trusted Experts. parentune.com was conceived on the premise of supporting parents to overcome challenges faced by them. Parentune has been the recipient of HOT100TECH in 2014 and is also among the chosen few under the NASSCOM 10,000 Startups.
Parentune's foundation is the growing trust from it's network of more than 1 million parents (and growing...) and the increasing confidence and credence of investors, who have just reinstated their faith in parentune through a second round of funding. The funding will go a long way to bolster parentune's aspirations: Parentune is a pro-parent network that is driven with a passion to build a highly personalised support system that services each and every parent in their journey to do do more for their child.
Awards & Recognition
SuperStartUp Award 2017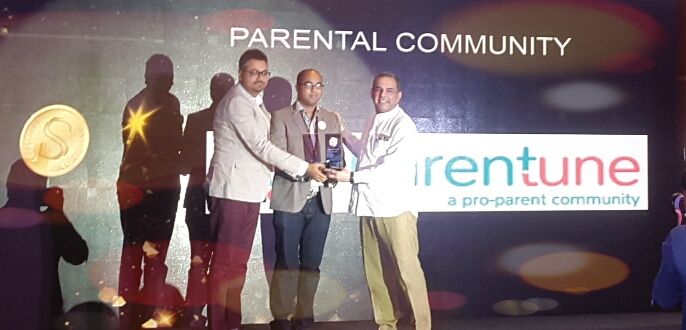 Parentune has been honored with SuperStarup Award 2017 on April 11, 2017. Nitin Pandey and Venugopal- cofounders of parentune accepted the award at the eminent ceremony.
The award ceremony was organized by Superbrands, proficient in the business of giving awards to the top brands since past 20 years. Superbrands simply put, sets the standard for trust,respect and breakout performance . They aim to work with netizens from across the country who shortlist and score startup brands and also let the consumers be the true judge. What makes the superstartup award special and unique is that its chosen through a people selection, completely a consumer choice award in that sense.
Parentune covered in Success with NASSCOM
Watch this interesting coverage of parentune.com under the success with Nasscom, which covers successful startups mentored by the Nasscom10K program. Congratulations to you for this update. Keep supporting fellow parents and being a proparent you are. Please do share this update about your community and help your fellow parents discover the parentune support.
WSJD LIVE Global
WSJD LIVE Global startup showcase 2015 is perhaps one of the most respected platform for a startup globally. Come October, just eight of the most innovative and promising startups from around 250 applicants will get a chance to present their vision and game plan in front of Who's Who of Silicon Valley, global investors and business executives. Parentune.com is among the 6 startups chosen from many, from India, in the running for this coveted showcase. Unbelievably true! http://bit.ly/1N8992I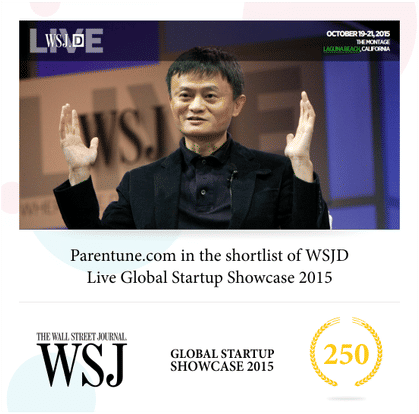 Hot 100 Tech Award
Parentune is very excited to share this pleasure and honour with all our proparents - we have won the Hot 100 tech award 2014! The award is given to the best technology start-ups. The winners were chosen from a pool of hundreds from across India by an eminent Jury and selection was based on online voting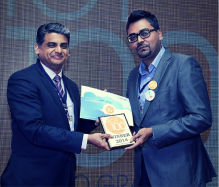 Parentune.com - The most rapidly growing Indian parents' community
Parentune story
Parentune Carnival