female child is brought up by their parents to be independent and also values of family r taught to her. From childhood a girl child is told to do good in her studies as well as household work. After marriage she manages he career and her family . Why so much of work on females only... think by nature... nature created men and women.. it distributed characteristics differently to men and women. Men were strong bodily and sharp and unique thinkers.... Women were with patience and more caring... As per those characters.. of nature they started doing their work... their work were equally distributed.... and so complications were less... and they were satisfied.... Today women have to be independent and work double to compete men... if career is focused somewhere she sacrifices her family time and if she is devoted to family she feels insecure that she isn't independent. Why we created this insecurity.... we byself has created this double discomfort for women... is this good or bad? There r different views ,situations ,conditions,needs,which we have created today... It's good women r doing their best in both fields ..career and looking after family... being the most multitalented... But But But..... what they lose behind this Love for children. Care time for children. Health. Completion with men. Insecurity with other womens. Fight for independent rights. Fight for equality. Instead of this......... Why don't we ask men to be brought up to do household work,and cook and be like women.... if we want both to be equal? Why men not to asked to do all there works like women?and Why we want women to work like men... and be independent ....here being independent is getting selfish.... U earn urs..... I will earn mine..... Is that respect... Or is that selfishness..... why not men do their speciality work and women do theirs and share and live together... why men thinks he earns and fulfilled a women needs?even she works for which men cannot work?it's just distribution of work given by nature ... Why we r making it so complex? Why men and women cannot do their speciality of work without insecurity and equallness?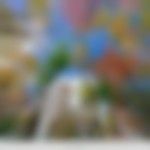 Created by

Updated on May 02, 2017
health Corner
Answer:
Hello Mini! I must say its a great observation and value what you intend to seek here! It all sta...