Hi doc and parents, My baby has recently completed 12 months, however she still eats only semisolid foods in puried form any thing granular she refuses to eat ,her wait is 8. 85kg ,she takes breast milk and nan pro 2 ,aata halwa, ragi halwa, oats porridge refuses suji, please suggest ways to make her eat other granular food also and she has also not started eating by herself. I have seen babies by this age can eat all soft food when given in their hand. Please suggest.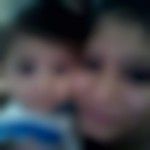 Created by Updated on Sep 10, 2016
nutrition Corner
Answer:
you should not compare your child with other children as each child has her own pace of growth. If the child prefers soft, mushy food only, give only that for the time being. You can gradually introduce solid foods in diet, by giving one or two bites of it. Give soft foods like porridge ( dalia, suji, sago, rice flakes etc). You may also give vegetable upma of suji, ragi etc. Try and make your child have meals with family. This would encourage her to start with solids. Show her chewing your foods. Give gaps between meals so that she is hungry enough to eat. Children also follow each other. Seeing other children eat solid food would also encourage her to eat. Don't worry as she is only one year old and she would gradually come to solids.
Also Read