Hi mam. my baby z of 2 years 3 months. iam a exhausted mother. she really irritating me very much. she used to follow her sibling in all situations. she dont want to listening my words. im very much afraid of my childs future. How can i change her. if i say any thing she used to gets very angry and used to hitting all in our family. we r living in a joint family. please help mee.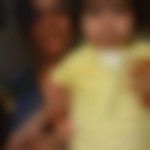 Created by Updated on Apr 20, 2018
education Corner
Answer:
From 2-3 the period is called terrible twos:). It can continue for a year more. Do not take it personally. She is learning to mind her own mind. She will want to be independent. Offer choices to her. I know it is tough but you have to be very patient. Her behaviour is just attention seeking. For children attention is equal to love. Every year there will be changes. She is bringing out her identity and independence. You have to be understanding and see from her perspective. You could also look out for a day care or play group to engage her for three hours in the day. When she hitso it, hold her hands and look into her eyes and say a firm No. repeat this many times till she gets used to the idea that she should not hit. At this age they will not know the meaning of their actions. It is up to us to patiently keep explaining. Please find some inputs on how could you foster learning for your toddler. https://www.parentune.com/parent-blog/fostering-early-years-of-development-for-your-child/357 I hope these give you some ideas. All the best and do keep us posted.
Also Read