hi mam. my daughter z of 25 mnths. we are living in combined family. my problm z that now a days she becomes very stubborn nd arrogant. while playing with other children she bitting and quarrling with them. always used to crying and cant even play happily and she cant spend single sec happy. my very much afraid of my child future. she dont want to come to me and even cant listen too my husbend also. we are hopeless.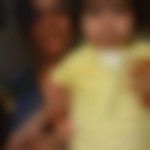 Created by Updated on Feb 26, 2018
education Corner
Answer:
She is in her terrible twos. It is a temporary phase. It is a phase of tantrums. Set your rules clearly. No hitting or beating or spitting. Design a poster on this and put it up where your daughter can see. Set a penalty. if she hits, no play or no tv ...take away something she likes to do for 30 minutes. Be strict about the penalty. Tell her what you expect her to do rather than telling her not to do. When you talk to her use a calm and friendly tone. Stick a chart on her door. Give hera glitter sticker whenever he does something good. Remove a sticker for a bad act. Set a reward if she scores 10 stickers. You have to have patience in carrying out this routine. I hope this helps.
Also Read