Hii my baby is 3. 5 months old. I am confused whether am producing enough milk. Initially it was less and we used to bottle feed him.. But that happens only once or twice a day whenever he cries after drinking. But for last few days he is refusing to breastfeeding usually when he feels sleepy I think. I press and bring a drop and keep inside his mouth, but he latch as if he is hungry and just give a single suck nd then turn his head and starts crying. Then he started refusing one side of my breast nd it started paining little bit. Somehow am making him drink that side too. I thought because of bottle he is refusing to drink mine and stopped giving bottle since two days but he was miserably crying when he feels sleepy nd not at all latching. Finally he sleep off with empty stomach and when he wakes up he is drinking properly. I would like to end bottle feeding.. I don't know whether am producing enough milk. He has trouble giving poop. Its not going everyday. Usually he drinks every one hour or one and half max during day. Pls do give suggestion.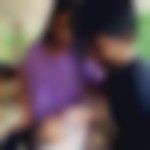 Created by

Updated on Apr 12, 2017
nutrition Corner
Answer:
Hi Ragima, you have to help your baby in latching which means that the baby should be able to take i...