my baby is completing 17 month now... he looks very thin although he is very active... now a days he does not want to take food... in his meal time he takes 2hrs to finish it... now he loves to see vidio .rhymes and alphabet number in phone.... by seeing he finish his meal... he has also various book about rhymes $animal.... he knows them well also ..in phone he also love to seeing that animal and rhymes... so my question is is it good for him or we will make him his it's bad habit????????plezzzz help me ....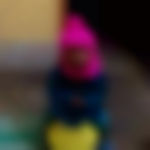 Created by

Updated on Feb 24, 2018
education Corner
Answer:
Gadgets are not good at this age. Nowadays children get to use them very early. There will come a stage when you cannot avoid giving them for a while. But at this stage you can avoid. It is alright if he takes time to eat. Distract with stories and play. Gadgets impair the cognitive development and quality of sleep. It impairs the language development also. It is better to read out stories and show books. Please find some inputs on how could you foster learning for your toddler. https://www.parentune.com/parent-blog/fostering-early-years-of-development-for-your-child/357 I hope this helps.
Also Read