my son is 5years old .he is hyper active child. but he don't concentrate on studies nd extra activities also. if he is studying then he concentrate only 5minutes start play .if I sit with him then only he study. same problem I face in extra class. like he is going Twaekondo class. he do only 5minutes then again he need to motivate. if he is watching TV then he is jumping all the time. his catching power is good but he do 15 minutes work in 30 minutes approx. first I want to ask is it good or not .becz after all he is a kid. how can I force him. but if I take it lenient then I think its not good for his future. so pls suggest me .as I notice he is very cool kid. like there was a drawing competition in school nd I make him prepare for aquatic world nd when he came back he told mamma I draw shinchan .mam said apna favourite cartoon character bhi bana sakte ho. even I told him again nd again ki achhe se karke aana. so pls suggest his behave is good or we HV to improve.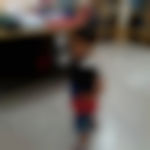 Created by

Updated on Nov 17, 2017
education Corner
Answer:
Routines help children and they need routines. Allow him to play after he returns for 1 hour. Set a time period to study for 1-1.15 hours. In this period allot 20 min studying, 5 min break slots. Be gentle and firm that he has to follow the routine. When he completes studying or writing give him a sticker. When he gets 7 stickers give him a reward. Please be patient and give him lots of love and affection. Slowly all this routine will help. I hope these give you some ideas. Each child is unique. Please read https://www.parentune.com/parent-blog/hyperactive-child-what-to-do/2708 I hope this helps.
Also Read