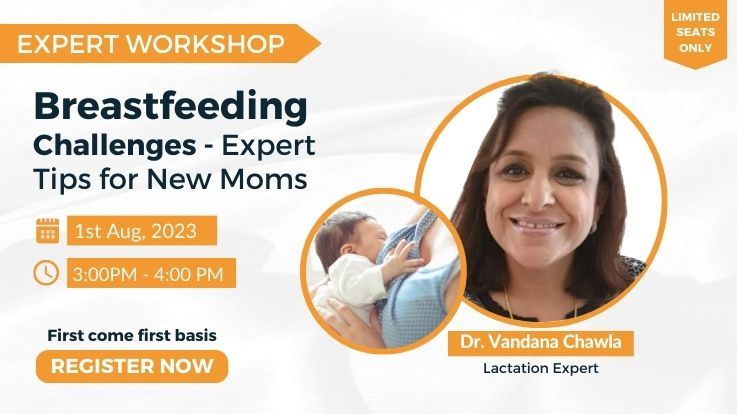 Breastfeeding Challenges - Expert Tips for New Moms
Aug 01, 2023, 3:00 pm - 4:00 pm
Welcoming a new life into the world is a beautiful experience, and as a new mom, you're filled with excitement and love. In the middle of the joy, you understand that the path of motherhood can present its fair share of challenges. One of the most significant and rewarding aspects of this journey is breastfeeding, but it's not always without hurdles.
Do you find yourself struggling with breastfeeding challenges, such as latching difficulties or concerns about your milk supply? Are you feeling overwhelmed and unsure about how to navigate through these obstacles successfully? If so, you're not alone, and we're here to provide the support and guidance you need.
Introducing the Breastfeeding Challenges for New Moms workshop, where you'll discover the secrets to a successful breastfeeding journey. Led by the esteemed lactation expert, Vandana Chawal, this workshop is tailored to address your concerns and empower you with the knowledge and techniques to overcome any obstacles that come your way.
Why Attend This Workshop?
Motherhood is a unique and transformative journey, and we believe that every new mom deserves to have a fulfilling breastfeeding experience. Vandana Chawal's expertise and compassionate approach will be your guiding light as you navigate through the challenges, building your confidence every step of the way.
During the workshop, you'll learn how to identify and resolve common breastfeeding issues, ensuring your baby receives the nourishment and care they need. From mastering the art of latching to understanding strategies to boost your milk supply, you'll gain valuable insights that will make your breastfeeding journey smoother and more enjoyable.
Note: This workshop is not intended to replace medical advice. If you have specific medical concerns, please consult your healthcare provider.
Vandana Chawla, Nutritionist & Lactation Expert
Mrs. Vandana Chawla, comes with a rich experience of over 21 years, being a Nutrition Expert. She has conducted several workshops and has been consulting parents over infant and child nutrition. She has authored 2 books, the latest one is an ebook on Starting Solids. Nutricare Baby- India's first Paediatric Nutrition Community on Social Media with over 22k mothers is led by her. Apart from child nutrition she is also a Certified Breastfeeding Specialist.
Pay

₹

99 to register now
Skip
Please complete the form to send your question to Vandana Chawla