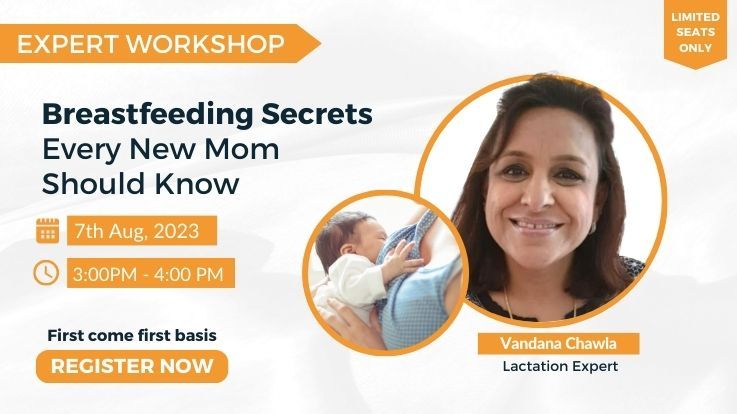 Breastfeeding Secrets Every New Mom Should Know
Aug 02, 2022, 3:00 pm - 4:00 pm
Pregnancy is an overwhelming experience for a woman. A woman goes through myriad transformations in the nine-month long journey. Experts suggest breastfeeding as one of the best ways to bond with the newborn and relieve stress.The first week of August is recognised as World Breastfeeding Week, which aims at spreading awareness about the importance of breastfeeding and bringing to light various challenges that are faced by women. In today's workshop, you can find answers to questions like-
How many breastfeeding positions are available? Could you explain about each of the positions in detail?

What is the 5 5 5 Rule for Breastfeeding?

Why is colostrum important for the baby?

Could you suggest some tips for increasing the breast milk supply?

What should be the ideal diet plan of a breastfeeding mother? What food items should she include and avoid in her diet?

What is responsive breastfeeding? Why is it important?

Is it okay for a mother to breastfeed her baby when she is sick?

How can a mother know that her baby is getting enough milk?

What is a nipple shield? And when should a mother use that?

Are there any precautions that the mothers must follow while handling the stored breastmilk?

What are the best practices to ensure an adequate latch?

How can breastfeeding strengthen the bond between mother and the baby?
Vandana Chawla, Nutritionist & Lactation Expert
Mrs. Vandana Chawla, comes with a rich experience of over 21 years, being a Nutrition Expert. She has conducted several workshops and has been consulting parents over infant and child nutrition. She has authored 2 books, the latest one is an ebook on Starting Solids. Nutricare Baby- India's first Paediatric Nutrition Community on Social Media with over 22k mothers is led by her. Apart from child nutrition she is also a Certified Breastfeeding Specialist.
Pay

₹

99 to register now