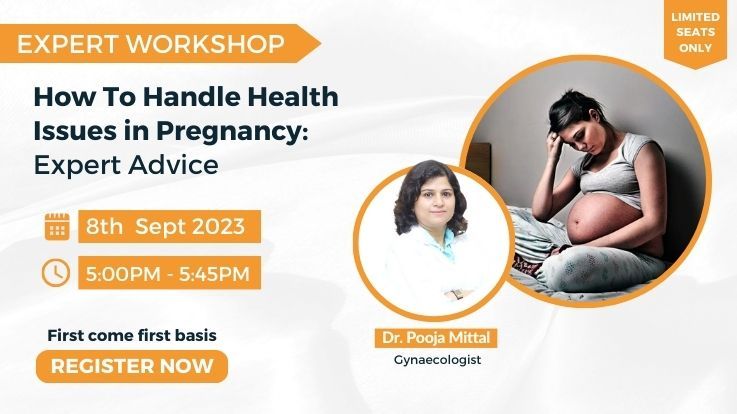 How To Handle Health Issues in Pregnancy: Expert Advice
Sep 08, 2023, 5:00 pm - 6:00 pm
Are you expecting a bundle of joy? Congratulations! Pregnancy is a beautiful journey filled with excitement and anticipation. However, it can also bring its fair share of questions, concerns, and challenges. As an expectant mom, it's natural to wonder:
- How do I ensure a healthy pregnancy?
- What if I encounter health issues along the way?
- Where can I find expert advice and guidance?
If these questions resonate with you, you're not alone. Every pregnant woman deserves access to reliable information and expert guidance to ensure a safe and healthy pregnancy.
Attend this Expert Workshop by renowned Gynaecologist, Pooja Mittal, and understand the common challenges and learn how to navigate any health issues that may arise during your pregnancy.
What You'll Learn:
1. Understand Common Pregnancy Health Issues: Gain insights into the most common health challenges that pregnant women face. Learn what to expect and how to identify potential issues early on.
2. Recognize Early Warning Signs: Discover the subtle cues that your body may provide when something isn't quite right. Knowing these signs can be crucial for timely intervention.
3. Nutrition and Wellness Tips: Receive expert guidance on maintaining a healthy diet and lifestyle during pregnancy. Learn about the foods that nourish both you and your growing baby.
4. When to Seek Medical Help: Understand the situations when it's essential to reach out to healthcare professionals. Learn the importance of timely medical advice and care.
5. Coping Strategies and Self-Care: Explore effective strategies for managing stress and anxiety during pregnancy. Discover self-care techniques that will help you stay mentally and emotionally resilient.
Don't let pregnancy health concerns overwhelm you. Equip yourself with knowledge and expert guidance! Secure your spot today and embark on a journey towards a healthier, happier pregnancy.
Register for the workshop now!
Limited seats only
Dr Pooja Mittal, Gynaecologist
Dr Pooja Mittal is a Gynaecologist & Obstetrician practicing in Gurugram. Dr Pooja has extensive experience of more than 15 years in areas like infertility issues, high risk pregnancies and offers evidence based approach.
Pay

₹

99 to register now
Skip
Please complete the form to send your question to Dr Pooja Mittal