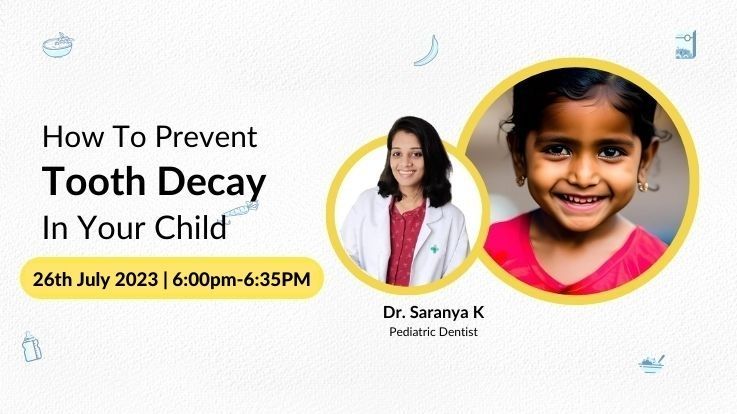 How To Prevent Tooth Decay In Your Child - Expert Tips For Parents
Jul 26, 2023, 6:00 pm - 6:35 pm
Did you know that tooth decay can start as early as the age of 3? That's right! It's possible for your child to develop tooth decay before they've even had a chance to brush their teeth. And if you think it's just kids who get cavities, think again.
Preventing tooth decay in your child is so important.
It's the first thing you can do to make a huge difference in their overall oral health. And it doesn't take much!
As a parent, it's important to prioritize your child's oral hygiene from an early age. Attend our expert workshop, "How To Prevent Tooth Decay In Your Child," designed exclusively for parents like you.
In this workshop, the Expert will share tips & tools to effectively prevent tooth decay in your child. Learn how you can play an active role in maintaining your child's dental health, ensuring a beautiful smile and strong teeth for years to come.
What You'll Learn:
How parents can actively contribute to their child's oral health routine.
Understand the signs, causes, and available treatments for tooth decay in children.
How to teach your child the importance of taking care of their teeth right from the beginning.
Tips and precautions to keep your child's teeth healthy and cavity-free.
Teach your child about the importance of taking care of his or her teeth from the beginning, and how to keep them healthy.
It might seem like a small thing, but it can mean the difference between having healthy teeth and losing them before they're even old enough to get braces.
Secure your spot today! Limited seats available.
Skip
Please complete the form to send your question to Dr Saranya K