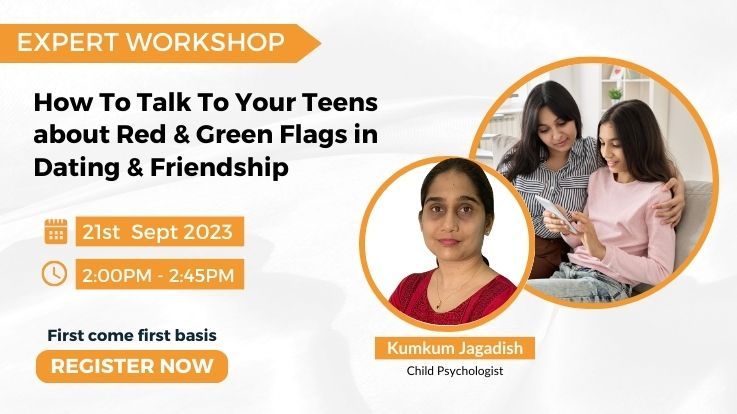 How To Talk To Your Teens about Red & Green Flags in Dating & Friendship
Sep 21, 2023, 2:00 pm - 2:45 pm
Worried About Your Teen's Dating and Friendship Choices?
Are you a parent struggling to connect with your teen about their dating and friendships? Are you concerned about the red and green flags they might be missing? You're not alone. In today's world, guiding the complexities of teenage relationships can be a real challenge.
Have you ever asked yourself:
"How can I help my teen identify warning signs in their friendships and romantic relationships?"
"What can I do to ensure my teen makes healthy and safe choices?"
Did you know that nearly 80% of teens experience some form of dating violence by the age of 18? Your guidance can make all the difference.
Join us for an insightful workshop with child psychologist Kumkum Jagdish to learn how to talk to your teens about red and green flags in relationships.
In this workshop, you'll learn:
1. The importance of open and non-judgmental conversations with your teens.
2. How to recognize red flags in dating and friendships, and why they matter.
3. Strategies to empower your teen to make informed and healthy choices.
4. Real-life scenarios and case studies that resonate with both you and your teen.
5. Proven techniques to strengthen your parent-teen relationship.
Invest in your teen's future and help them navigate the complex world of relationships. Your support can lead to healthier, safer, and happier choices.
Limited Seats available! Secure your seat Now!

Disclaimer: This workshop provides guidance and information intended to help parents initiate conversations with their teenagers about dating, friendships, and recognizing red and green flags in relationships. The information presented in this workshop is based on the expertise of Kumkum Jagdish, a child psychologist, and is intended for general educational purposes only.
Kumkum Jagadish, Clinical psychologist
Kumkum Jagadish is a Psychologist and Counsellor and specialises in counseling, parenting and life skills development. She has been conducting various sessions on areas like self-awareness, parenting and life skills development to name a few.
Pay

₹

99 to register now
Skip
Please complete the form to send your question to Kumkum Jagadish