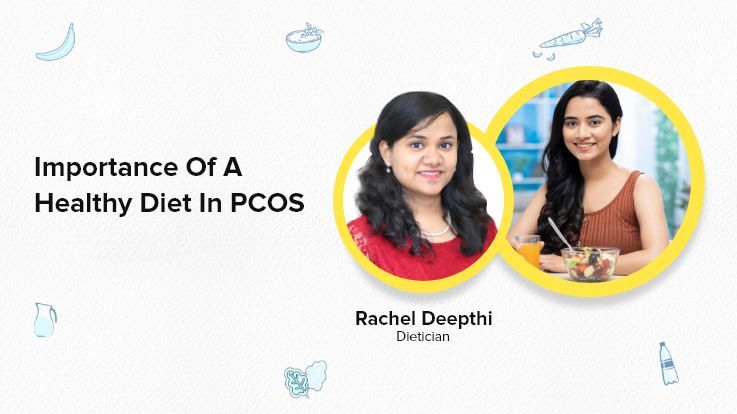 Importance Of A Healthy Diet In PCOS
Aug 08, 2022, 4:00 pm - 5:00 pm
Polycystic ovary syndrome can be defined as a health condition in women, where a cyst gets formed in ovaries. The cyst is primarily formed due to the overproduction of androgen hormones. A proper diet and nutrition can help PCOS patients to lose and manage their weight along with controlling their insulin levels as well. Most experts agree that a high protein and low carbohydrate can help in dealing with weight and insulin issues.Leafy greens such as spinach are rich in multiple nutrients and low in calories. They are also rich in Vitamin B. And more than 60% of PCOS patients happen to be Vitamin B deficient. Omega- 3 fatty acids are essential for regulating one's menstrual cycle. They help in regulating your hormones; they also reduce your body's sensitivity to prolactin — a hormone that can suppress ovulation. Eating low GI food is imperative for weight management. Foods high in GI can cause your blood sugar levels to rise, which has implications for diabetes caused by PCOS. Opt for fruits low in GI such as apples, pear, grapefruit, blueberries, and foods such as oatmeal, sweet potatoes, and legumes. In today's workshop, you can find answers to questions like-
Why is it difficult to lose weight with PCOS?
Is keto diet for weight loss a good option for women suffering from PCOS?
What fruits are good for women suffering from PCOS?
Is it normal for women with PCOS to crave sugar?
Is intermittent fasting beneficial for women with PCOS?
What all vitamins are vital for women who are suffering from PCOS?
Apart from fruits, what vegetables should a woman include in her diet who is suffering from PCOS?
For a woman who is suffering from PCOS, should she increase her fiber intake?
How can diet changes reverse PCOS?
Are there any essential supplements that a woman must take in PCOS?
What food items are not allowed for PCOS?
Apart from food and nutrition, what all life changes one needs to make for the better management of PCOS?
Rachel Deepthi, Nutritionist
Registered Dietitian. Specialized in Maternal and child health nutrition, diabetes management, sports nutrition & weight management.
Pay

₹

99 to register now
Skip
Please complete the form to send your question to Rachel Deepthi