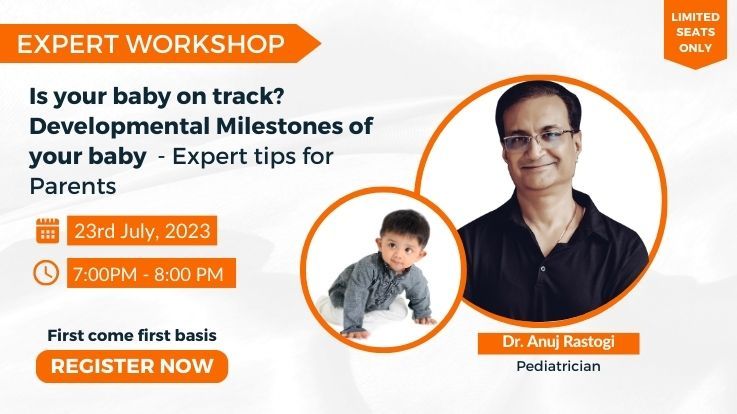 Is your baby on track? Developmental Milestones of your baby - Expert Tips For Parents
Jul 23, 2023, 7:00 pm - 8:00 pm
As a parent, you want to ensure your baby is growing and developing just the way it should be. But are you aware of the essential milestones they should be hitting during their early years?
Join our expert workshop, led by Dr. Anuj Rastogi, a renowned Pediatrician with a wealth of experience, who will be your guide into your baby's developmental journey.
What You'll Learn:
1. Understanding Developmental Milestones: Discover the key milestones your baby should reach during their early years, from motor skills to language development and social interactions.
2. Recognizing Healthy Progress: Learn to recognize positive signs of development and celebrate the accomplishments your baby achieves along the way.
3. Addressing Concerns and Red Flags: Gain confidence in identifying potential developmental delays and when it's essential to seek professional advice.
4. Parental Engagement and Support: Explore practical ways to actively participate in your child's growth, fostering a nurturing and loving environment.
5. Q&A Session with Dr. Anuj Rastogi: Get your questions answered by a renowned Pediatrician and learn personalized guidance for your child's unique needs.
Who Should Attend?
This workshop is open to all parents and caregivers who want to stay informed and involved in their child's development. Whether you're a new parent or have experienced the joy of parenting before, you'll find valuable knowledge to support your baby's growth.
Reserve your spot now and take a proactive step towards nurturing your baby's full potential.
Dr. Anuj Rastogi, Founder, Tara KIDS- Director Neo Natal Health Service of Sushila Jaswant Rai Hospital, Meerut
Founder, Tara KIDS- Director Neo Natal Health Service of Sushila Jaswant Rai Hospital, Meerut
Pay

₹

99 to register now
Skip
Please complete the form to send your question to Dr. Anuj Rastogi