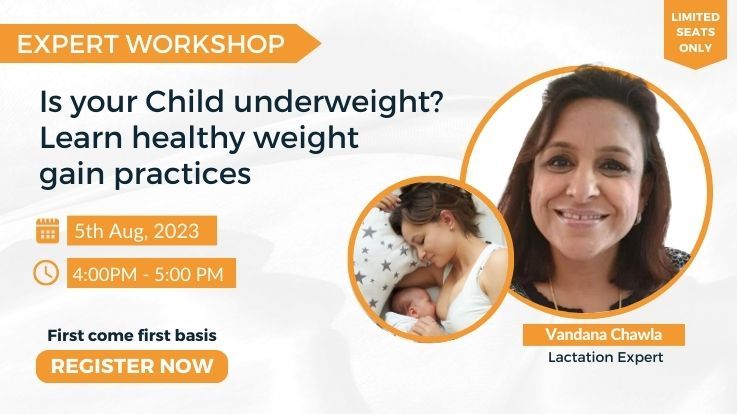 Is your Child underweight? Expert Tips For Parents
Sep 05, 2023, 4:00 pm - 5:00 pm
Are you a new mom feeling concerned about your child's weight? Do you worry that your toddler isn't gaining enough? You're not alone. Many moms face the same questions and concerns when it comes to their little one's health.
Introducing the Workshop with Expert Vandana Chawal
Join us for an informative workshop led by renowned expert Vandana Chawal, where you'll discover the essential practices for ensuring your child's healthy weight gain. With Vandana's expertise and your dedication, you can give your child the best start in life.
Why This Workshop Matters:
Did you know that underweight children may be more susceptible to illnesses and developmental delays?
Stats That Matter:
- Proper weight gain in early childhood is crucial for physical and cognitive development.
- Many moms struggle with understanding and managing their child's weight.
What You'll Learn:
1. Breastfeeding and nutrition tips for newborns.
2. How to recognize healthy weight gain in the early stages.
3. Common misconceptions about infant weight.
4. Nutritional guidelines for picky eaters.
5. Fun and engaging mealtime strategies.
6. Tracking your toddler's growth milestones.
Don't let concerns about your child's weight keep you up at night. Equip yourself with knowledge and practical tactics to ensure your child's healthy growth and development.
Don't miss this opportunity to learn from the best and give your child the healthy future they deserve.
Vandana Chawla, Nutritionist & Lactation Expert
Mrs. Vandana Chawla, comes with a rich experience of over 21 years, being a Nutrition Expert. She has conducted several workshops and has been consulting parents over infant and child nutrition. She has authored 2 books, the latest one is an ebook on Starting Solids. Nutricare Baby- India's first Paediatric Nutrition Community on Social Media with over 22k mothers is led by her. Apart from child nutrition she is also a Certified Breastfeeding Specialist.
Pay

₹

99 to register now
Skip
Please complete the form to send your question to Vandana Chawla