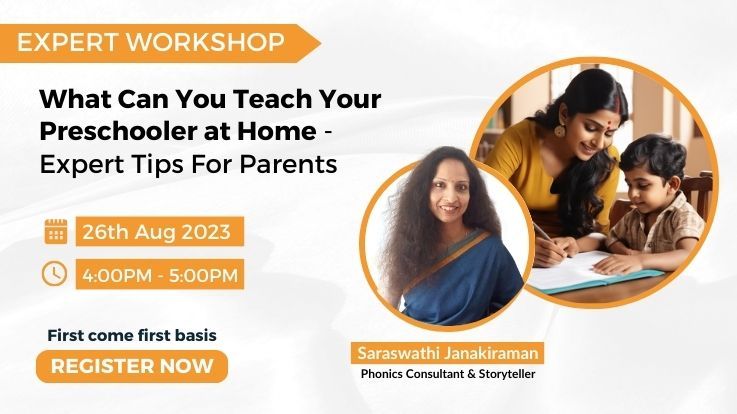 What Can You Teach Your Preschooler at Home - Expert Tips For Parents
Aug 26, 2023, 4:00 pm - 5:00 pm
Are you worried that your preschooler might not be getting the best learning experiences at home? Imagine the frustration of seeing your child not fully engaged in learning activities, missing out on crucial early skills. Join our Expert Workshop led by renowned Phonic Consultant and storyteller, Saraswathy Janikiraman. Get practical tips and guidance on how you can teach your preschooler at home. Let's make learning at home easy and fun!
As a parent, you understand the importance of laying a strong educational foundation. What you'll learn in this workshop:
1. Discover the power of phonics in early literacy development.
2. Learn the art of storytelling and boost your child's imagination.
3. Engage in hands-on activities that make learning enjoyable.
4. Get recommendations for books, tools, and online resources.
5. Interactive Q&A session with the expert.
Frequently Asked Questions (FAQs)
Q: What age group is this workshop suitable for?
A: This workshop is tailored for parents of preschoolers.
Q: Can I attend with my partner?
A: Absolutely! We encourage both parents to participate and enrich their child's learning journey together.
Q: Are there any prerequisites for this workshop?
A: No prerequisites are required. Whether you're new to teaching or looking to enhance your skills, you'll find value in this workshop.
Q: Will I receive any materials or resources?
A: Yes, you'll receive workshop materials and recommended resource lists to support your teaching efforts at home.
Q: Is this workshop interactive?
A: Yes, our workshop is highly interactive, ensuring you can practice the techniques and get personalized guidance.
This workshop is a must-attend for parents looking to create an engaging and educational environment for their children.
Secure your seat for this transformative workshop. Limited seats available!
Saraswathi Janakiraman, Phonics Consultant & Storyteller
Phonics Consultant & Storyteller. Founder of WIKALP
Pay

₹

99 to register now
Skip
Please complete the form to send your question to Saraswathi Janakiraman