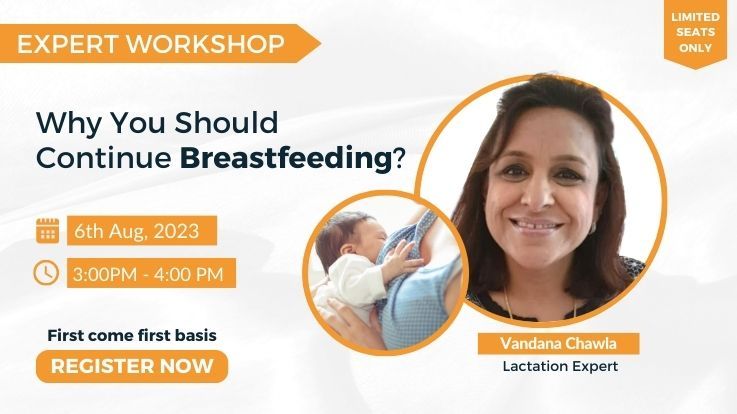 Why You Should Continue Breastfeeding?
Aug 06, 2023, 3:00 pm - 4:00 pm
WHO recommends moms to exclusively breastfeed babies for the first 6 months. Join the session to know you should not give up and continue breastfeeding.
Are you a new parent seeking comprehensive guidance on the benefits and importance of continued breastfeeding? Join this workshop on "Why You Should Continue Breastfeeding?" led by the renowned lactation consultant, Vandana Chawala.
About the Workshop:
Breastfeeding is a journey that evolves over time, and making informed choices can have a lasting impact on both you and your child's well-being. This workshop is designed to provide you with numerous advantages of continuing breastfeeding beyond the initial stages. Whether you're a first-time parent or looking to refresh your knowledge, this workshop is tailored to all who wish to understand the science and significance of prolonged breastfeeding.
What to Expect:
In-depth Exploration: Gain a deeper understanding of the nutritional, immunological, and emotional benefits of extended breastfeeding.
Expert Guidance: Learn from Vandana Chawala, a respected expert in lactation, who will share her extensive knowledge and experience.
Myth-Busting: Separate fact from fiction as we address common misconceptions and concerns about breastfeeding toddlers and older children.
Q&A Session: Engage in a live Q&A opportunity to have your specific questions addressed by Vandana Chawala herself.
Supportive Community: Connect with other parents on a similar journey, fostering a sense of community and shared learning.
Key Takeaways:
By the end of this workshop, you will:
✓ Understand the unique composition of breast milk as your child grows.
✓ Recognize the ongoing health benefits for both child and mother.
✓ Gain strategies to navigate challenges and overcome societal barriers.
✓ Feel empowered to make informed choices about your breastfeeding journey.
Reserve your spot today!
Note: This workshop is intended for educational purposes only and does not provide personalized medical advice. Always consult with a healthcare provider for individual concerns.
Vandana Chawla, Nutritionist & Lactation Expert
Mrs. Vandana Chawla, comes with a rich experience of over 21 years, being a Nutrition Expert. She has conducted several workshops and has been consulting parents over infant and child nutrition. She has authored 2 books, the latest one is an ebook on Starting Solids. Nutricare Baby- India's first Paediatric Nutrition Community on Social Media with over 22k mothers is led by her. Apart from child nutrition she is also a Certified Breastfeeding Specialist.
Pay

₹

99 to register now
Skip
Please complete the form to send your question to Vandana Chawla