Parenting
Why Gandhi will always be relevant to your child?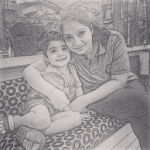 Created by Cheena M Gujral Updated on Sep 19, 2019 Gandhiji for most of us, is undoubtedly the most influential personality in Indian History. He was a social reformer and the one to ignite fire of Indian independence movement. His life journey is remarkable example of fight for truth and non violence. He is the eminent leader of Indian Independence against British rule. He inspired many and lead the movements for civil rights. His life story has endless teachings for all of us specially the future stars; our children.
Who Was Mahatma Gandhi?
Mohandas Karamchand Gandhi, was born on 2nd October 1869, in Porbandar. Son to a simple family, he was a shy boy and an average student who loved reading books. In his childhood he was well remarked as Restless mercury; always working on something. With his elementary education from India, he did his law studies from London (1888) and then sailed to South Africa for his work. It was African's untouchable behaviour towards Indians and racism,that forced him to fight for the civil rights and equality .He founded many settlements to fight colour prejudices and sooner in 1915 ,he returned to India joining politics to struggle for Indian freedom. He was an activist, lawyer, soldier, writer and an outstanding politician.
Why Do We Celebrate 2nd October As National Holiday?
I believe it is the most relevant question we all shall ask ourselves. Lost in the world of personal commitments, we hardly recall the importance associated with national holidays and often, the kids make us rethink this, with their straight questions. As my son enquired about the reason of his play school's off on 2nd October? Just mentioning to child that, " Aaj gandhi ji ka birthday hai, seems insufficient to me. So let's us first understand his contributions to better grasp the idea behind the national holiday. In his fight for independence, Gandhi was involved in-
Non violent disobedience movement against revenue collectors
He Lead champaran agitation in Bihar (1917)
Swadeshi movement(1920); to boycott foreign goods and material
Khilafat or non cooperation movement in 1920-21
Pledge for complete Independence was taken in 1930
He started famous Dandi march against "salt tax" with his ashramites and started producing his own salt
Gandhi Irwin pact in 1930,to free all prisoners
Starting satyagrah, the fight for truth in 1940
The idea of 'Quit India'burst in 1942 and finally in 1947 , we were a free nation
It is evident that how British were was forced to leave and set India as a free country. He provided template for a political and spiritual vision of nation. He put his fight into actions and transformed the nation with its citizens. Undoubtedly he is "Father of the Nation". He was the chief architect of Indian freedom struggle and was known as Bapu for his values and believes. Thus in honour of his contributions, we celebrate 2nd Oct, his birth anniversary as a National Holiday, and internationally, this is observed as a day of Nonviolence.
Today instead of treating it as any other holiday let's take it as an opportunity to inculcate what he preached. It is declared holiday so that Indian citizens can try to attain his values of truth and nonviolence, they learn to contribute in the nation's growth and prosperity. As an responsible individual, we should utilise the day off, to read about his life history and do things for self and country. We shall associate selves with any social activity as an token of gratitude to him.
What Are Gandhian Pinciples That You Should Like To See In Your Child?
Politically his certain comments and actions towards freedom of nation, could be argued, but his principles are always a source of inspiration to every individual. His life lessons are more than a living example to get motivated and bring values in children.
Honesty is best policy: Gandhi's life was all about battling for respect and integrity. These days when we teach our child to excel in life and studies, we shall inspire them do it honestly. Character is the base of an inspirational life, so as a parent, work on building good characters than a meritorious individual
Truth: Gandhiji always said, " truth has no from.Truth alone will endure. In current days, the cases of cheating in exams just to gain extra grades and lying on mistakes to escape repurcation, is disappointing. Child shall be encouraged to speak and accept truth
Simplicity: His words,"Clothes not make a man." It is the thoughts and attitude that cast an impression rather than attire. I personally follow this principle, and try to keep my child away from the fad of branded clothes, toys and gadget.Your real personality is,wearing your character
Peace or non violence: The Incidents of fights and heated violence,ragging and other silly issues are a major loophole in young children attitude. I would like my child to learn the importance of winning things with peace and love. Hitting is not the solution to settle differences with friends and family
Work selflessly: doing things to gain fruit and appreciation shall not the real cause for a child. Work for bigger goodness,.eg I would motivate my boy to study for gaining knowledge, not just to clear the exams. Encourage him to Help his friends in need, work for school and community with pure intentions
Modesty: Living simple life and consuming simple food is what really inspire me from Gandhism. It's good to fulfill child's dream of luxury and comfort,but stop them being slave of endless desires and promptness to buy unnecessary stuff like toys,books clothes etc.
Integrity: It is very important to make your child realise the worth of respecting self and others too. I will teach my child respecting not only the elders but younger and friends too. Treating maids, drivers and the waiters at restaurants with equal respect is what they shall learn. You can gain respect only by giving it to others
How Relevant Are His Teachings In Today's World?
His teachings were and will always be relevant for the world. Even Gandhi Innovations has been published in Harvard Business Review. In today's world, when we all are trapped in greed and selfishness, it's become vital to know mahatma gandhi's teachings to bring reforms.Few of his lessons are teaching for lifetime. Like
Live as you are going to die tomorrow and learn as if you were to live forever. His golden words are a book in itself. His faith in all religions, truth and equality can bring reforms immaculately.
He quoted it really well that, future depend upon how we do in present". So we all shall work on the present of our child to build the flawless future. Let them support in experimenting with truth. Implement the funda of "jaadu ki jhappi" from famous movie Munna Bhai. Most of the challenges in life can be resolved with love and affection. A simple hug can bring smiles and cut the hatred.
This Gandhi Jaynti, not only visit your favourite party place but celebrate his teachings too. Enjoy pizza with your child ,sharing Gandhism and his impressionable anecdotes. Every day has something special to learn.
Do tell us how you find Gandhi and his principles relevant for you. Share how you celebrated this national holiday.
Ahimsa: When we are fighting for mere parking spaces and traffic jams. It become necessary to understand the importance of non violence. An eye for an eye will make whole world blind. So make peace over minor issues with talk and love. Peace is what we all aim at individual, national or international levels
Satya: This is the utmost need of hour where self realisation and self accessing has lost. Talking to self ,will help one realise the actual needs and help us to reduce our grieves and expectations. This is in accordance to our lives where truth has lost its existence
Asteya( not stealing): This is the most applicable teaching in modern times, when we all are engrossed in a kind of competition. A race to own best house, a luxury car, maybe a dashing white collar job or an international trip, just to look in a better space, unintentionally we waste our energy in imitating others and forget about our actual desires and needs
Swadeshi: I find his teaching of being self sufficient very apt, where every man or woman shall be independent. As a nation we too are in phase of boycotting foreign goods this festive season to exhibit our self sufficiency
Sarvodaya: This means upliftment of all. Yes this is highly relevant when the poor and unprivileged are juggling and racism is catching deep roots in our society. We shall adopt this teaching to eradicate the evil of discrimination
Control your mind to control your body:His formula of mind controlling the body and body controlling the soul shall be widely adopted when the criminals and antisocials have lost all gears over polluted minds
This content has been checked & validated by Doctors and Experts of the parentune Expert panel. Our panel consists of Neonatologist, Gynecologist, Peadiatrician, Nutritionist, Child Counselor, Education & Learning Expert, Physiotherapist, Learning disability Expert and Developmental Pead.
Kindly
Login
or
Register
to post a comment.
+ Start A Blog
Top Parenting Blogs
Top Parenting Talks
Top Parenting question