Parenting
AVOID SPEAKING LOCAL LANGUAGE IN SCHOOL Created by Updated on Mar 24, 2015
Can anyone suggest tips to inculcate the habit of speaking English amongst school students in an English medium school. Students seem to be comfortable conversing in local language all the time. This affects them the most when they under perform in ASL ( Assessment of Spoken Language for CBSE ) where they are supposed to speak extempore and seem to be at loss of words as they are not fluent in English . Further they are not able to frame proper sentences for English compositions. I understand reading helps a lot in this matter but when it a peer issue , how to motivate the peer students to speak English ? Kindly advise .
Kindly
Login
or
Register
to post a comment. | Mar 24, 2015
Hi Sonia! English language not being our mother tongue needs lots of practice. U could try doing following things :1. Converse in English with yr child and motivate him to do so too. 2. U could make it a routine to read one paragraph of newspaper everyday and underline words which he/she is not able to understand. Note these in a diary and find out its meaning from dictionary and help the child use these words in conversation. These will improve his vocabulary. 3. writing diary is also a good habit. This will help the child to reflect on day's happening and express his thoughts in English language. 4. Appreciate the child on makING efforts. 5. U could buy a game for the child in which there are words with pictures cards and child is supposed to make sentences by combining these words. 6. Also by changing language to English for cartoons and making child watch channels like Animal Planet, DISCOVERY, Cbeebies, DISCOVERY kids, ZQ etc. you could reinforce the same. A child spends around 17 to 18 hours at home and juSt 7 to 8 hours in school. The major change has to come at home where all members need to converse in English in routine. Just being dependent on school would not serve the purpose.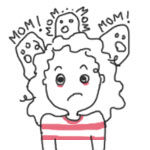 | Mar 24, 2015
You may start reading to them first , discuss the topic with them .this would create interest for reading. pick a topic one day from newspaper , one day from a book. try this for someday and observe. | Mar 24, 2015
Hi Sonali if you asking for activities to do in a classroom setup, here are some suggestions. You haven't mentioned the age group of the children. But hope these activities would help. Generally children or anyone who is not confident in speaking a language would get intimidated if they are asked to speak in a larger group. So first split them into smaller groups. Let them choose their group members among themselves so they will feel comfortable with the friends. Smaller the group effective will be the communication as they get very less criticism from peers. In the US schools that follow common core standards, they use workshop model in the classrooms where they form small groups with children of common interest or calibre. It is found to be very effective teaching methodology. Ask each group to choose a topic of their interest- not necessarily related to academics. Allow them to discuss anything. Topic could be on food, movies, video games , the classroom rules they want to change - anything they want to discuss. Then Each member of the group takes a responsibility to share different things like common interests in the topic, any disagreement or agreement, funny things, fun facts etc. with you ( not with the whole class) . Instead of calling them to come to you, you approach the group and sit with them and participate in the discussion. Listen to them. At this point avoid making corrections in the language. First build their confidence. So while listening if you find any mistake in the grammar, instead of correcting it, repeat the same as a question. For example if the child says "I catched the train.. " You could rephrase it. "You caught the train on time?. This gives an opportunity for the child to rephrase her sentence with the correct tense. " Yes I caught the train on time ". Once they are comfortable with the smaller group, make the group a little bigger. Choose one or two person from each group and explain them some games and the rules to play. Let these children in turn explain the rules to their individual group. This activity encourages children to ask questions about the games rules. And everyone would want to participate in the activity. This also motivates them to speak when they have fun things to do Another activity is 5 clues. you could give one of the children from each group an object. Ask the child to describe the object to the group in terms of color, size, shape, it's use etc as clues. After each clue, the rest of the children should try to find out what the object is. Maximum of 5 clues can be used before they find the answer. If children get a chance to mingle with other students whose mother tongue is different from their own, the necessity would drive them to communicate in English. Hope some of these would help. | Mar 24, 2015
hi SONIA LH ! Language learning, as research in the area suggests is bets picked up by native language learning first. It's a great sign and a good starting point for you child. so, don't worry about it, in fact you could feel great that your child is expressing, no matter in which language. You could introduce your child to some of these activities to foster interest in english as a language, story telling with pictures and story books, drama and theatre for children is again a great place to foster interest for a language.
More Similar Talks
Top Parenting Talks