Health
baby crying Created by Updated on Jul 05, 2016
my LO will be 4 months old on the 7th. He's been crying a lot lately,before going to sleep. could it be teething or what? he takes breastmilk not like before cries along while feeding. pls help.
Kindly
Login
or
Register
to post a comment. | Jul 05, 2016
ok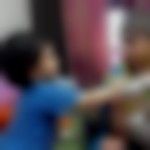 | Jul 05, 2016
note down the time when happens, try to feed him before he is sleepy. this is generally coz child is sleepy n very hungry at the same time n cries makes him further thirsty n hungry. so put him on sleep before you do n feed before doing it. | Jul 05, 2016
Then you can try some massage before he sleeps or make him sleep in your lap n den transfer to cot once he sleeps. My lo likes to sleep in lateral position n once she sleeps i we turn her supine. | Jul 05, 2016
feeding is going fine,the only problem i have is he won't go off to sleep without crying. | Jul 05, 2016
if he is crying n not feeding first try to sooth him by taking in your lap or talking or singing n den again try to feed him after 5-10 mins. hope this works coz it works well for me. don't worry he will b fine. | Jul 05, 2016
i know he is feeling sleepy cos he constantly rub his eyes and yawn. when i try to put him to sleep he will start crying. i feed him, he drinks for a while and continues crying. i'm famished. | Jul 05, 2016
even my daughter will b 4mts next week. she also cries alot for last 5-7 days otherwise she is fine. it may b due to change in weather.
More Similar Talks
Top Health Talks