Parenting
Dealing with child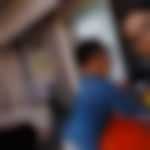 Created by

Updated on Aug 27, 2015
my son completed 3year he is habit of pulling hair and his action is also become violence and hit to child of his age .when ever I tries to make Him understand he don't realise Why mom is scolding or what I m saying he is always busy in playing whenever I talked to him he just ignore the matter .today only he pulled one boy hair while he was walking poor that boy fall on the road how to deal
Kindly
Login
or
Register
to post a comment.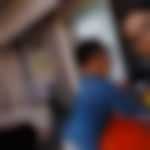 | Aug 30, 2015
I 'll fallow ur advice and work on ut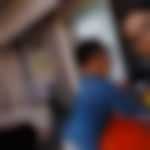 | Aug 30, 2015
Thanks for your valuable advice shikha batra | Aug 29, 2015
18. Allow him to talk on phone with relatives say grandparents, cousins etc. to whom he is very close and share with them how was his day in school, what he did during weekend etc. by not seeing them in person and just listening to their voice he would get the confidence to talk. 19. Once he is confident, u could ask him to interact face to face. Give him chance to show them some of his school work, his drawings etc. 20. harp on his strengths and interest and give him chance to talk on the same. say the movie he liked, cArtoon he loves to watch, games he to hope this would help. | Aug 29, 2015
Organise play dates. Help him mingle with friend. Tell him to Show them his toys and talk about those. i am sure with practice he would be able to communicate and express himself well. 16. U could tell him to order food for himself, tell the shopkeeper what he wants, send the messages to neighbours or family members through him. 17. On dinner table purposely touch on topics of his choice, ask him to give his view point. Praise him for giving his piece of mind. 18. AHope this helps. | Aug 29, 2015
My pleasure! Pooja as far as communication skills are concerned, try out following methods:1. Begin with child himself. Teach him body parts, Self introduction, his likes, his parents name etc. 2. Take a notebook for yr record and add three words every week to his vocabulary. 3. U could teach him words which child can see/feel/ listen/ taste/smell initially, Involving one or more of sense organs. For ex. Tree, clouds, birds. 4. Show him pictures of the same on internet, make drawings and he colour the same. 5. Teach him how to make sentences on the same. For ex- it's a cloudy day. Birds are chirping. There are big trees near my house. 6. While going out ask him to talk on related words by asking questions: what did u just see by pointing towards a bird. What's the color of the bird? What does bird eat? 7. Help him to give elaborate answers rather than just one word answers. 8. Parise him for giving the right answer by appreciating,giving a smiley or a star. 9. Play picture card games with him. In which u could ask him to pick the right picture. 10. Once he is thorough with those 3 words, proceed to next three related words. For ex- wings, Sky, plants. 11. He could use new words in addition to previous words to make long sentences. For example: there are dark clouds in the sky. It might rain in the evening. 12. Once he has learnt names of things/ animals/ people (noun-proper and common nouns), u could teach him abstract things like feelings say cold, hot, hurt, loud and help him make sentences on the same like for ex - It is hot outside. I am sweating. 13. Help him express himself. If he says one word, U could help him elaborate. 14. Communicate this to teacher to help him express himself. 15. Kids learn faster in the company of age mates. Call his friend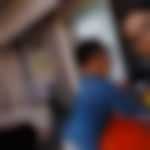 | Aug 29, 2015
Thanks for urs advice shikha batra one thing how can I improve communication skill .yesterday he got hurt when I asked what had happened he was unable to tell | Aug 29, 2015
Hi again! Thanks for replying! I believe these accidents is a problem that could be really frustrating for the child as much it is for the family. try out following methods: 1. Please avoid scolding him as he would stop listening to u after a while and would become rebellious. 2. Whenever that accident happens at home,u could make him sit and discuss politely what's the way out! How he feels, what he thinks could be done. When u scold the child,u Take away the responsibility from the child. By discussion and being empathetic, understanding he too is going through a rough phase, the onus lies on the child and he feels responsible and would take steps to deal with it. 2. please ensure whenever u speak to him, u make him sit, make eye contact, yr tone is polite yet firm and u share clearly what u expect from him. 3. motivate him to speak in class by telling him, if he will share his mind with the teacher, she will give him the stars and the smiley. 4. Work on the bond between teacher and the child. Discuss with the teacher, what behavior of hers would make yr child closer to him. How she should motivate him etc. 5. work on the relationship between u and him. Praise him often, spend time with him, motivate him, and do everything possible to bring him closer to u. 6. Make sure u always appreciate him in front of others. Avoid labeling him as shy or stubborn child and discussing about his problems. 7. Discuss about his strengths. How good he is in sports, and how quickly he grasps etc. 8. Listen to what all he has to say. Avoid topics he does not want to discuss. For ex. Did he do potty in school today? The more u would try and shift focus from the problem area,it would no longer remain a problem. 9. Believe in yrself. It's just a phase and will passby soon. You are doing an excellent job and managing things so well. Just little more efforts are required from yr end to get him rid of this problem. Hope this would help! Tkcare.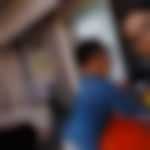 | Aug 28, 2015
Dear shikha Bates he is very active child and has sharp memory power but the problem is that dnt talk properly has reason is the only child in house .2.his behaviour in home is that he is busy in playing himself ,when I tries to talk he dnt lesion unless anything important for him. in home also has habit of pulling hair .he is not afraid of anything .3usually I get complaints. From his school about his behaviour in class that he dnt talk and just smile and he does potty regularly in his pant. 4 he dnt lesion me at all .5.he dnt say anything what happened in school .whenever I ask he just smile . | Aug 28, 2015
Hi Pooja Shukla! It is indeed very frustrating to be unable to control yr child's anger. Please try and understand the reason for this behavior: 1. Is there some other problem for which child is being scolded or reprimanded or teased at home or school, due to which Child feels frustrated and instead takes out his anger and frustration on soft targets? 2. Is there any possibility of him imitating an adult or cartoon character or a sibling/cousin who does the same with him. Not exactly pulling hair but some other form of physical force like kicking/hitting/ punching/biting/ teasing etc. 3. How is his behavior at home? Does he listen to u,follow instructions, talk politely? 4. Does he share what happened at school with you? 5. What is yr reaction when u see him hitting some other child? 6. Have u ever received similar complaints from school? 7. What according to u could be bothering him? Since u r his primary caregiver and understand him well,what does yr instinct say, why he does that? Once these questions are answered,we can try and understand what goes on in child's mind when he does that. He needs yr help,please don't judge him but try and find out reasons for his frustration. Waiting for yr reply.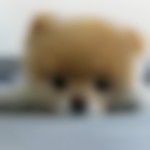 | Aug 28, 2015
Pooja Shukla, I think sometimes more than just explaining to the child, a little strictness is also required. Do not scold him, but use a firm level tone so that he understands that mumma is serious. Instead of talking to him when he is playing, Sit down at his level, hold his shoulders and talk to him firmly. He will try to wriggle out, look here and there, but look into his eyes and hold his gaze. Also, if he misbehaves excessively, give him a time out to let him contemplate over his mistake. Also, sometimes children don't realise the pain their actions are causing to other children. the next time, some kid pulls his hair or pushes him, rather than protecting your son, use this as an oppurtunity to tell him that "see how much it hurts when someone pulls your hair and so when you do it to other children, it must hurt them also". To discipline a child, a bit of firmness is required. hope this helps.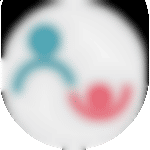 | Aug 28, 2015
Hi Pooja Shukla You may refer to this blog- https://www.parentune.com/parent-blog/handling-aggression-in-children/198
More Similar Talks