Education and Learning
Education Created by

Updated on Mar 30, 2015
Hi, I am anjali bhardwaj. i have some doubt regarding the education of my child. she has got admission in nersery but i am very much worried about her non-concentrated behaviour. she has less concentration towards anything got bored very frequently from anything. In such situaion i find myself unable to teach her. i teach her fruits ,vegetables,numbers,latters recognition repeatedly and reterated her so many times but she forgot most from that very frequently and started giving les attention towards study. I Just want to know how to create concentration and focused study in her. sometimes i think that keeping her age in my mind i am forcing unnecessary pressure or load on her head. kindly guide me for the problem m facing.
Kindly
Login
or
Register
to post a comment. | Apr 01, 2015
I completely agree with Carol. Carol you ideas are always amazing. | Apr 01, 2015
Which board (cbse Or icse) Do u find the best for educating the child. my kid got admission in icse board but i m bit confused cz i have a competitive orientation of mind. kindly suggest. | Mar 31, 2015
If you still feel you should start teaching her alphabets now, here are some suggestions. 1. Teach her the alphabet rhyme so she first learns to recite the alphabets. 2. There are many toys that come in handy in teaching alphabets. The floor jigsaw alphabet puzzle, blocks with alphabets, Peg puzzles with alphabets, fridge magnets. You could make use of them. Introduce one toy at a time and while she is playing with one toy, remove the rest from her sight so she doesn't get distracted to play with other toys. 3. It's not necessary that you should teach the alphabets in the alphabetical order. Do not try to teach all at once. one or 2 alphabets at a time is more than enough. 4. You might have observed your child all these days and you must be knowing what she likes to do often. Try to plan an activity based on her interest. For example if your child likes to run around inside the house, you could mark different spots with an alphabet- say spot A, Spot B and Spot C. you could explain to your child which alphabet is A and B and C. Now every time you show the alphabet A, she should run to the spot A or if B is shown run to spot B and so on. Even if she doesn't remember remind her or give her a hint. Next time you take turns with her and when she shows you the alphabet, you run to the right spot. 5. Similarly If your child likes cars, you could use the brand logo to teach alphabets. V & W from Volkwagen, B, M, W in BMW, H from Honda or Hyundai, S from Suzuki, A from Acura etc. 6. you could write alphabets in chart paper and place them randomly on the floor. When you call upon an alphabet, she should run to the paper which has that alphabet written on it. Take turn in playing. 7. You could use Styrofoam balls or table tennis balls to write the alphabets and play a treasure hunt. Have minimum of 5 balls with the same alphabets written on them and have such collections for 3 alphabets at a time. Mix them up and hide them in the room. Or you could even keep them in a plain sight - on the table, in between cushions, on the shelf, under the chair where she could find them easily. Have 3 different bowls lined up on a table. Ask her to find the alphabet balls and gather them in appropriate bowls. You may ask her to say the name of the alphabet written on ball after she finds them. 8. Choose an alphabet a day and ask her to find that alphabet in the newspaper and circle them. You too join her in the game to find out who finds the most no of alphabets. you can never go wrong if use games to teach her everything. I use games and hands on activities even with my 9 yr old. So for 3 yr old you should definitely consider using it. Sometimes you will tempted to think that it's time consuming and would doubt whether it's worth the time. But trust me your child will never forget them. | Mar 31, 2015
Hi Anjali Bhardwaj, your child is absolutely normal. so nothing to worry. any child her age would be curious and active and would like to explore her newly discovered independence. between the age of 2. 5 and 3 children they start to form solid memories. So when you teach her new things, it's natural for her to forget during the initial stages. 3 yr old's attention span is very short which is 5 to 10 min. so you have to plan in such a way that you switch to a different activity after that 10 min duration. Moreover alphabets and numbers are abstract terms for her. She won't understand the purpose of learning them. Gone are the days when you teach the child with charts, books and paper & pencil. Esp at this tender age they explore and learn through playing. So use fun games for teaching. Other than alphabets and numbers there are numerous things you could teach your child through daily activities. Please check the following blogs for some activities you could do with your child. https://www.parentune.com/parent-blog/6-simple-fun-activities-to-teach-a-preschooler-part-1/472 https://www.parentune.com/parenting-blog/477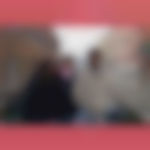 | Mar 31, 2015
Hi Anjali A preschooler has an attention span of maximum 10 min. I repeat maximum. It is gradually build. Instead of teaching her let her learn on her own. Be innovative in teaching. For a mother it is not difficult to recognize what interest her child the most. Use that technique. Believe me no two child are same. Use real props, games, computer games, etc. Above all leave the teaching to be done in school. If it is good school then you won't need to teach her at home. Teachers there are well trained to teach the little kids. Just be a mother and enjoy your time with her. Read to her, play with her, go out with her and make memories. Trust me, she will benefit more from these activities. Eventually she will learn to compete in this competitive world. | Mar 31, 2015
Hi Anjali Bhardwaj, most children at this age have this problem where they have too mcuh curiosity and don't want to sit. Talk to her teacher at school and see if the same behaviour is at school also or just at home. If she is ok at school, cooperates and listens to teachers etc. , then don't worry about her studies. she is doing ok. | Mar 31, 2015
Anjali Bhardwaj, one activity that i was advised for my child, which is said to build concentration is: mix together dry beans such as rajma, lobhiya, white chana, black chana in a bowl and ask the child to separate it. this activity teaches the child focus. monitor the child and encourage her to sort the beans. hope this helps.
More Similar Talks
Top Education and Learning Talks
+ Start a Talk
Top Education and Learning question
Top Education and Learning Blogs