Parenting
how to increas e patience in me Created by

Updated on Oct 20, 2016
hi my 4 yrs win is very active n naughty... he is doing things non stop... at some limit I giv him slap. ..how can I control dis?I feel sorry after that...
Kindly
Login
or
Register
to post a comment. | Oct 22, 2016
Hey! I find this Parenting blog really interesting. I suggest you have a look too: https://www.parentune.com/parent-blog/how-to-improve-concentration-levels-for-your-child/547 | Oct 22, 2016
hi Neetu Prjapati! hope u r doing well. there is an amazing blog by Carol which u will definitely find useful. please do have a look!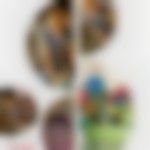 | Oct 22, 2016
hello shikha mam... you have given right guidance for the kids who r very much naughty,but the problem also come there wen they all just want to play than don't want to study for even 1/2hour ,reluctant to just sit with n learn something apart from the playing n games.... and generally naughty kids distract their mind on various things while doing homework n study... kindly give some guidance on this also as I m also phasing the same problem with my 4. 3year old boy due to his naughty behaviour, lack of concentration n admant behaviour . | Oct 21, 2016
hi Dipti Sadaphal! hope u r doing well! The child is a bundle of energy and doesn't know how to utilize it in right direction. so it gets directed in behaviors which make him look naughty. it is advisable to channelize his energies in the right direction. get a basket ball ring (child size) in the compound /balcony let him do dribbling and put it in the ring, or buy him skates and let him do skating in the rink, take him to the park, let him play on gyms /swings where he can spend his energy or if he wishes, make him join a hobby class as per his interest. to keep the child motivated u could also join the same sports club or hobby class. venting out anger and frustration on your child willll make him rebellious and further disobey u.. set a routine for him. hope this helps! | Oct 20, 2016
hi,I also cross the same feeling, my son is hyperactive now he is 4 year 4 month,whenever he do something that time I have to slap like you,nowadays he is doing something ,I start to encourage him to increase his energy to the right way....
More Similar Talks