Child Psychology and Behaviour
My Daughter is So adament Created by

Updated on Feb 24, 2016
As my Dughter is going to be 3 by next month . i can find so much difference in her after gettiing her to play school she wants to do everything by herself what matter the surroundings ,she is becoming so adament nowadays wants do what she thinks that second(e. g we went for temple told her keep my hand all vehicles or passing otherwise some will hit you like that suddenly she got angry stood there in road saying that she will not hold hands will walk alone here and there we explained politely she is not convinced ) this an example all the things she wants to do . i know its her wish if we deny she suddenly broke and starts to cry. afarais that this behaviour will affect her mental growth .please some one help me with the idea.. I am trying to be very polite all the time to her she is not letting her wish want to do what is she thinking that second . we are living with in-laws they are taking care of her when i'm a working mom. This creates lot of fights at home. Please help ..
Kindly
Login
or
Register
to post a comment.


| Dec 05, 2016
hi friends, my kid will turn 5 this December. He is very stubborn and wants to do things as per his choice. For example, if I take him to mall, he will not stand with me, he will run far away from my sight which is scary, i m worried all the time whenever he disappears from my sight. he throws all the shopping stuff kept in stores , Sometimes he hits people passing by and kids too. Kindly suggest how should I handle. He hits kids when I take him to birthday party and runs out of the restaurant. kindly suggest how to handle this. | Feb 24, 2016
Hi Sakthi! This is quite normal for a three year old to ask to be allowed to carry on tasks independently. They are gaining control over their hands and legs and their dexterity as well as movement are becoming more and more refined with each passing day and they are learning new techniques of doing things which is all the more a reason for them wanting to experiment. This is in accordance with stage 2 Autonomy vs. shame and doubt of Erikson's theory. It is advisable to allow the child to carry on tasks herself which are safe for her like choice of clothes, dressing up herself, eating herself etc. Having said that if she wants to crosss the road herself or do things which could be dangerous for her, u could explain her politely before leaving the house that it would not be safe for her to do so alone and reframe the same thing by saying" Mama is scared to cross the road alone . So will u help her by holding her hand. " Sakthi I understand, it is a very challenging phase for u to handle job, home as well as a child who demands autonomy alltogether. U need to be calm and composed and very patient with the child and make sure she being a soft target doesn't bear the brunt of the stressful phase that u r going through. I am sure with trust on her , patience, and love u will overcome this phase. Hope this helps. | Feb 24, 2016
Thanks for your advise i am so polite to her let me chage her with my love since i am working will not get time to talk ,weekends held with cleaning washing activities since i,m from orthodox joint family they feel house chores so important ,MY MIL will get pressure if i didn't enter to kitchen while she was doing thinks need to share the part of kitchen how tired am is also.. feeling streesfull life but worrying lot about my kid .. no time to relax myself will try definetely .. thanks for your valuable feed back .. definetely will work out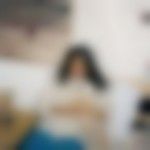 | Feb 24, 2016
Hi Sakthi, at three she is just showing her new found independence, as she is learning to get ready by herself, eating food by herself. What you can do is 1. Sit down with her and tell her that you love her and that even though she is a big girl now, she will always be momma's little girl. 2. before you venture out of the house ensure that you speak with her about the potential dangers on the road and then say that if somebody hit her, where will you find another daughter. And 3. relax and let things take their own course. If you will relax, she will relax to you and will listen to you.
More Similar Talks
Top Child Psychology and Behaviour Talks
+ Start a Talk
Top Child Psychology and Behaviour question
Top Child Psychology and Behaviour Blogs