Babycare
Health and Wellness
my six yrs old daughter is getting mild fever every evening Created by
Updated on Aug 07, 2012
My 6 yrs old daughter got a sore throat and cough along with fever a week back , i thought it is seasonal and gave her the appropriate medicines .. the throat got better and the fever also went but since then she has been getting mild fever every evening ( 99 - 99. 5 ) which makes her irritable and she does not want to eat ... but after a nap of an hour or so the fever goes away ( i give no medicine for it ). Though now i think i should take her to her doc , any suggestions as to why the fever keeps coming back ...??
Kindly
Login
or
Register
to post a comment.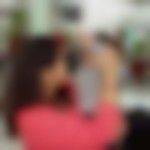 | Aug 10, 2012
A doctor's visit is must. Let the doc decide what's the right thing to do. | Aug 08, 2012
hey payal , i think it is murphy's law or something ... just when i decided that i would take her to the doctor yesterday ... the fever did not come :-) but today morning she started complaining of stomach ache ... come what may i will take her to the doc today ... thanks for sharing | Aug 08, 2012
She could be stressed. When my daughter loses sleep, due to travel or just by not going to bed on time, she starts getting fever, which usually goes after a good sleep. Is your child swimming? She could be reacting to that too. It is however important that if a fever persists for more than 4 days, you take her to a doctor.