Babycare
Need help for baby's skin tone Created by Updated on Apr 21, 2016
Hi can anyone say me tips to lighten my baby girl's skin tone. Im really concerned because she was born with whetish skin tone and I'm worried she will turn more dark when she grows up . actually I don't feel that bad but my hubby wishes to make her fair as she is a girl. Plss help me if u know frm anyone how to lighten baby skin tone. she is currently six months now. Thanks
Kindly
Login
or
Register
to post a comment. | Apr 26, 2016
Hi mayuri can I use this paste to baby's face also? And if u hve used ur baby, how was d difference. Thnks | Apr 25, 2016
Thnx mayuri and rachita fr ur tips. Can u say wer can I get ambi haldi?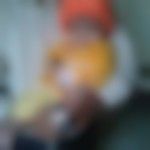 | Apr 21, 2016
Use masur dal, fresh malai, besan & Ambi Haldi. Make smooth powder of masur dal. At time of bath, in bowel, take fresh malai, masur dal powder, besan and ambi halad pest, Mix well and apply on baby. I use my baby. | Apr 21, 2016
Turning brown means all her body dirt will make d white bread turn little brown... yes u hv to make her bath after dis. | Apr 21, 2016
Hi rachita. .Thnx so much. How does it come out brown in color. can we make her bath after dat . because after using that skin will become oily. So can I wash it with water? | Apr 21, 2016
Take a slice of bread remove its brown end mash it n den add fresh malai to it. Then mix both of it properly.. add little milk if required. Apply dis on your babies body. Keep on massaging unless it becomes dry n strt cumng out in brown color. Hope it works... | Apr 21, 2016
Thank you rachita. .can u say me how to use and the method? And have u seen anyone using?was there any difference. Thnx fr u tip dear. | Apr 21, 2016
Try to give her white bread and malai massage every day... it wrks..
More Similar Talks
Top Babycare Talks