Parenting
Selfconfidence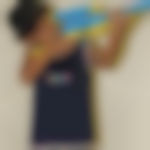 Created by

Updated on Sep 12, 2015
Hi everyone. My toddler is 5. he writes alphabets numbers evrything rite,bt a question arise in him am i rite?? He renders dialogue at stage and stops suddenly coz of the big question in him am i rite??maybe I think it's even my fault. Coz I used to yell at him a lot from the beginning which made loose his confidence, surely nt coz of the newborn. till nw there's a good relation with his sibbling. he'll cry for every simple things being a boy. that makes me worry a lot... plz help me out.. good wishes to all mum's and kids. Tc
Kindly
Login
or
Register
to post a comment. | Sep 12, 2015
Hi Padma Krishnan! Thank you for elaborating yr query. The first approval a child seeks is from home for everything he does. From his first scribble on a blank sheet, to something legible, to a drawing of a scenery, to a card he made for his teacher /parent/sibling/cousin, to how he looks in a particular dress etc. he wants his family members especially parents to praise him. so u r his constant source of motivation. please try yr level best to motivate him, even if u don't like a particular thing please dont outrightly reject it. u could frame yr sentence in such a manner which is not hard hitting, motivating and also make him realize he is capable of doing even better. if he has to perform on stage and he practices his lines on a particular topic at home u could motivate him when he has finished and say baby that was a very good performance, clap for him, hug him and in the end tell him it would be excellent if u could try saying it this way (modification suggested). Please under no circumstances make the child realize he can't do it or his performance was unsatisfactory . When he stops in between clap very loudly for him so that hitch is gone and he realizes he was awesome. Dear Padma Krishnan yr child needs yr love and affection please give him the mother figure he wants to see in you and rest will fall in place on its own. I am sure u r doing yr best and don't want him to make mistakes but harsh methods of disciplining the child would make him rebellious at one stage. the tighter the noose, the more he would struggle to break free. Don't worry things will fall in place just don't let u r stock of love deplete. If feasible plan frequent breaks for self in between to rejuvenate self and lower yr stress level. trust me u deserve it completely! | Sep 12, 2015
*sensitive to others feelings when he grows up | Sep 12, 2015
Hi Padma, You are right. Yelling at a child when he makes mistakes, can make the child feel that he is a failure. In your son's case, it has made him feel that it's not ok to make mistakes. First give him an assurance that it's ok to make mistakes. If he starts trusting in that, half the battle is done. Let him understand that every body makes mistakes and that's how we all learn by correcting ones mistake. In fact allowing him to make mistakes, only helps him learn to take risks in life and be a better person. So please do not yell at him when he makes mistakes while trying to learn something. Now to boost his confidence at stage, take one step at a time and move progressively. First let him feel comfortable and confident in giving his opinion to family members at home. Ask for his opinion for even little things. for example when you hang a painting on the wall ask him what he thinks- is it the right place to hang it, would it look better if displayed in another room. ? Consider his opinion too. Create an opportunity to play with smaller children too so he can be a mentor to them, can explain rules of the game. If he is good at something, ask him to teach a smaller child in the family or in neighborhood. During small gatherings at home, allow him to speak when he is among a group of elders and friends. Do not stop him from talking in these small gatherings to save unexpected embarrassments. Check with his class teacher whether he feels confident to speak in classroom among his friends, whether he participates in class discussions. If not take help from her to encourage him to speak in smaller groups in class and then in front of the whole class. In your housing community if there is any event, let him participate in a group performance. Later he can progress to an individual performance. You have mentioned that he cries for everything "being a boy". Please do not teach your son that boys don't cry. By telling him that he cries being a boy only implies that only girls cry and it can also convey a wrong message to him that girls are weaker than boys. Everybody has emotions and feelings and it's ok to cry even if it's a boy. So there is nothing to worry about that as he will be sensitive to other feelings when he grows up. | Sep 12, 2015
Hi Padma Krishnan! Please elaborate on the behavior which makes u feel,he lacks confidence. How is his behavior at school with teachers ,classmates? has this been a recent change that he is lacking confidence? How about his equation with his newborn sibling? How about his academic performance/stage performance ? Any other thing u would like to share ?
More Similar Talks
Top Parenting Talks