Parenting
Snatching Created by Updated on Aug 06, 2015
Hi my daughter is 4 years 8 months.. Everything is fine with her except one that she snatches a lot even with friends when they play together she has a habit of snatching i have explained her calmly rudely but nothing works.. She says she doesn't want to share. Please give some tips how to make her understand that she should share her toys..
Kindly
Login
or
Register
to post a comment. | Aug 07, 2015
Well said Carol. My daughter with same age behaves same,but now she started sharing few things to her friend and also i have noted as her other frineds love sharing there things to my daughter,now she also feel to share her things. But yes not all things which she is very possesive. My duty is always to keep reminding her politely and appreciating her friend and my daughter whenever they share there belongings:) | Aug 06, 2015
Thank you so much for the advice will try the same | Aug 06, 2015
Priya Jhangiani, Generally 3-4 yr old children are very possessive about their belongings and they don't like to part with them. But they gradually learn sharing when they trust that the other person will return the toy. 1. Before you go for a playdate or to the park, let her choose which toy(s) she wants to take with her. Ask her if she is ready to share it with other children. If she says no, then it's better to leave that toy at home. Probably to start with, you can allow her to take a toy which is her least favorite so she wont feel very sad when other child plays with it. The ones which she is possessive about can be left at home. 2. Encourage her to take turns in the play ground. You can set a timer when they take turns and do not forget to give it back to her after the stipulated time. Initially Keep the time intervals very short so she doesn't feel very bad to part with it. Do it for few times everyday so she will start trusting that it will come back to her. 3. Tell the other child that s/he also cant snatch it from her but should ask for her permission. 4. Before leaving for the playground / playdate explain what is expected of her that she should take turns while playing, wait for her turn and no fighting or throwing tantrums, that you will get her back home if she puts up a fight. Follow through the rules. If she doesn't behave, for a few days you can bring her back home and be consistent in that. 5. tell her that children wouldn't want to play with her if she snatches the toys as it is rude to snatch and it's no fun playing alone. Also it's not polite to refuse to give when someone asks for permission to play with her toys only for sometime. 6. You also be a role model for her. let her see you share your things or food with family members and friends and don't forget to mention it to her saying "Please remind me to get back my book I gave to Ms. X. I hope the book is useful for her". It will take few days for her to start sharing. So keep trying..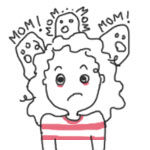 | Aug 06, 2015
Hi Priya.. In this age it happens and happens with most of the children and its just a phase and will pass away soon. At this age, for children sharing means giving their favourite thing/toy to somebody else. So never ever force your child to share, instead of that you can just introduce the concept of turn. If she is palying with a friend then let them play turn by turn. Appreciate her, reward her if she waits for her turn with patience.
More Similar Talks
Top Parenting Talks