Parenting
talking n understanding Created by

Updated on May 23, 2017
my son is 1yrs 8 month he dnt under stand wat I day tell him. he will repeat all his poetries but dnt call me mummy way to do
Kindly
Login
or
Register
to post a comment. | May 24, 2017
hi thx alot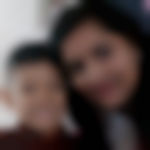 | May 24, 2017
Hi Kavita , Is your baby watch too much TV or phone? if yes then this is the cause he didn't answer you or he didn't listen you. so first don't give him mobile or TV. play with him and try to talk to him. slowly he will understand and listen you. | May 23, 2017
ok thx alot | May 23, 2017
Kavita please post a separate query , for a psychologist or a clinical psychologist in Mumbai. Kavita not making an eye contact, not responding to name, not being able to follow simple instructions, are some of the things that are worrying me. so to be doubly sure these are normal behaviors, I have advised u to consult an expert. | May 23, 2017
but shikha he respond to his song wat way he like repeat words also still u think Mam I need to show him if yes I will help me with an specialist please | May 23, 2017
Kavita it's advisable to consult an expert to rule out any neurodevelopmental disorder. the earlier the intervention the better the outcome. it's difficult to say anything for sure without observation and analysis of the whole situation , that's y an expert's intervention is recommended. | May 23, 2017
no he dnt respond if we call him n not even he follow if we tell him to sit or cm here he repeats his poetry wat way he watch in you tube he say 1 to 10 no alphabet n repeat poetry yes he respond wen I make him comfortable n wen I love him wen i Sought on him he will show his angry by hitting on his head | May 23, 2017
hi Kavita Singh! is he able to comprehend simple instructions,say for instance -come here, sit down? does he respond to his name? what all words he can speak? does he make an eye contact while u speak to him? does he imitate actions? does he respond to u when u love him or comfort him? please reply to these questions so that we could help u better. | May 23, 2017
hi thx for ur reply I do dis wen whenever I am with him | May 23, 2017
Hi Kavita, he will start soon. Keep asking things .Like ask him come to mamma / mamma will give you toys etc. keep repeating whatever you want him to learn.
More Similar Talks