Health
6 weeks - 12 months Baby Immunization Calendar Created by Parentune Support Updated on Nov 15, 2019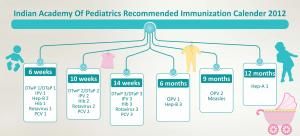 This is the current recommended immunization Calendar 2012; for an Infant between 6 weeks to 12 months by the Indian Academy of Pediatrics.
Vaccination At 6 Weeks:
Polio: All doses of IPV may be replaced with OPV if the former is unaffordable/unavailable. Additional doses of OPV on all supplementary immunization activities (SIAs) 
Two doses IPV instead of 3 for primary series if started at 8 weeks, and 8 weeks interval between the doses 
Rotavirus: 2 doses of RV-1 and 3 doses of RV-5 
Vaccination At 14 Weeks:
Rotavirus: Only 2 doses of RV1 are recommended at present
Vaccination At 6 Months:
Hepatitis-B: The final (third or fourth) dose in the HepB vaccine series should be administered no earlier than age 24 weeks and at least 16 weeks after the first dose. 
Vaccination At 12 Months:
Hepatitis A: For both killed and live hepatitis-A vaccines, 2 doses are recommended. Further to the above Indian Academy of Pediatrics also recommends the following:
IAP recommended vaccines for High-risk* children (Vaccines under special circumstances): 
Influenza Vaccine 
Meningococcal Vaccine 
Japanese Encephalitis Vaccine 
Cholera Vaccine 
Rabies Vaccine 
Yellow Fever Vaccine 
Pneumococcal Polysaccharide Vaccine (PPSV 23)
High-risk category of Children: 
Congenital or acquired immunodeficiency (including HIV infection),
Chronic cardiac, pulmonary (including asthma if treated with prolonged high-dose oral corticosteroids), hematologic, renal (including nephrotic syndrome), liver disease and diabetes mellitus 
Children on long term steroids, salicylates, immunosuppressive or radiation therapy 
Diabetes mellitus, Cerebrospinal fluid leak, Cochlear implant, Malignancies, 
Children with functional/ anatomic asplenia/ hyposplenia
During disease outbreaks • Laboratory personnel and healthcare workers 
Travelers 
6 in 1 Vaccination Awareness Vaccination Awareness is an education initiative by GSK.
Apart for hygiene and proper nutrition, vaccination plays an important role for your child's health and wellbeing.
You could also get your baby a combination vaccination which provides protection to fight against multiple diseases including serious Polio, with fewer pricks, lesser discomfort and the same protection as with individual vaccination.
It gives protection for 6 diseases including; Diphtheria, Pertussis, Tetanus, Hib, Hepatitis B and Polio - which are vaccine preventable. Combination Vaccination offers timely protection against these with less delays and better vaccination coverage.
Pertussis is a contagious respiratory disease that could be serious in infants. It is also called whooping cough. Diphtheria is a bacterial infection that could block airways and could lead to difficulty in breathing. Besides Diphtheria and Pertussis, Tetanus, Hib, Hepatitis B and Polio are other diseases that Combination vaccination provides protection from. While Polio could lead to paralysis and disability, Hepatitis B is a viral infection affecting the liver. Tetanus could lead to muscle spasms and Hib could cause infections like Pneumonia or brain fever.
So, when your baby is 0-2 months old, consult your Pediatrician to know more about protection from 6 diseases with combination vaccination.
References
https://www.who.int/immunization/research/forums_and_initiatives/1_MWilde_Combination_Vaccines_gvirf16.pdf?ua=1
https://www.cdc.gov/vaccines/parents/why-vaccinate/combination-vaccines.html
http://gskprotect.in/6diseasescombinationvaccination/index.html
Disclaimer:
A public awareness initiative by GlaxoSmithKline Pharmaceuticals Limited. Dr. Annie Besant Road, Worli, Mumbai 400 030, India. Information appearing in this material is for general awareness only and does not constitute any medical advice. Please consult your Doctor for more information, any question or concern you may have regarding your condition.
Please consult your physician for the complete list of vaccine preventable diseases and for the complete vaccination schedule for each disease.
The mere appearance of this article on this website/page does not constitute an endorsement by GSK or its affiliates of such website/page or any other articles, images or videos, if any, appearing on this website/page.
CL codes: NP-IN-INH-OGM-200101, DOP Dec 2021
Kindly
Login
or
Register
to post a comment.