Babycare
9 Tips to Increase Breast Milk Supply in Lactating Moms Created by Parentune Support Updated on May 11, 2022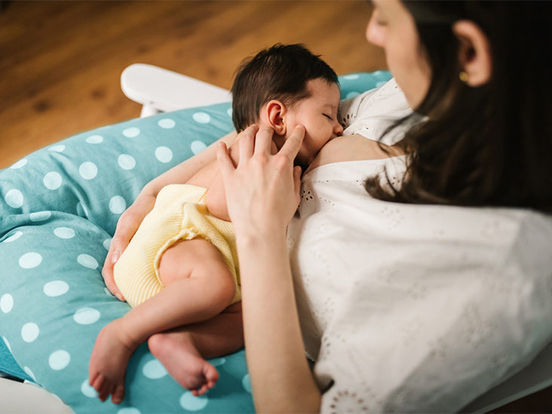 While breastfeeding is one of the most cherished aspects of motherhood, it is also a cause for much anxiety in first-time mothers. Are you stressing out about these things – "Am I producing enough milk for my baby?" "Is my baby still hungry?" While time and again your paediatrician will assure you that each mother's milk is sufficient for her child, reassuring a new mother is not so easy. Your baby's growth (height and weight) is a strong indicator of whether he's getting enough nutrition and calories, and the doctor can put your mind at ease with this information. However, read on to find out what you can do to improve lactation and make breastfeeding a success.
How To Increase Breast Milk Supply?
If you're anxious about your breast milk supply is low, here are 9 tips that can help you.
Relax and be comfortable: Might sound paradoxical, but the more you stress, the lesser your body will be able to produce milk.

Studies have shown that stress can reduce the production of oxytocin, a hormone responsible for milk production
Listen to some calming music, think happy thoughts and be relaxed
When you feed your baby or express milk with a breast pump, choose a comfortable posture and pumps which are comfortable

Nurse more: When it comes to breastfeeding, your body follows a simple supply and demand logic.

The more you breastfeed your baby, the more milk your breasts will continue producing
If you don't feed, your body will get a signal that milk is not needed, and will not produce enough milk
In case you are unable to breastfeed your baby for some reason, express breast milk with a comfortable breast pump and feed the baby
Expressing with a comfortable breast pump also tells the body that milk is needed

Be confident: Through your pregnancy and postpartum, too, family and friends will always have the advice to offer. Many a time, advice that you didn't ask for. A mother-in-law may suggest that there is not sufficient let down of milk and your baby is hungry. Trust yourself. Listening too much to negativity will affect your willingness to feed. Politely tell her that if your baby wants to feed again even after a short gap, you will feed, but are not willing to give your child a top feed
Don't feel pressured: Even if your child demands that you feed her every 45 minutes, it is okay! Each child has a separate feeding pattern and so even if your child gives you a gap of 45 minutes between each feed session, rest assured your baby is getting enough milk
Watch out for signs: How do you know your child is feeding enough? Simply by his output! One easy way to judge if your milk is enough is by counting the number of times the baby pees. Anything above 6 a day means the baby is getting sufficient feed. Be happy!
Have a healthy diet: If you eat healthily, your body will be able to produce enough milk. So, rather than focusing on heavy foods, focus on the right diet. Have enough to eat and don't think of cutting back on your food to lose the baby fat. That can wait. Eat enough cereals, milk and milk products, dry fruits, and green leafy vegetables
Focus on letdown of milk: Sometimes, even though your body may be producing sufficient milk, it might not be available to the child because of improper letdown of milk. In order to address this.

Make sure you're drinking plenty of fluids, before, after and during feeding
Be stress-free. As we mentioned before, a calm mind is a prerequisite for breastfeeding!
Ensure that your baby latches on properly (the child should be suckling on the entire areola and not just on the nipple)
A warm bath or massaging your breast with a warm towel before feeding help. If you use a breast pump, get one with a dedicated Let-Down mode to stimulate milk flow

Focus on galactagogue-rich foods: While there isn't scientific evidence to prove the same, some foods are traditionally given to lactating mothers to increase supply. Try them in moderation and see what works best for you – saunf, jeera, ajwain. Boil them in water and consume that water, or simply mix and grind these to make a churan of sorts
Supplement intake: If you are still not convinced about lactation, there are some supplements available in the market in both powder and capsule form that can be taken to increase lactation. You can ask your doctor for advice on these
The biggest hurdle many mothers face is stress – about the baby's nutritional needs being met, about expectations from family, about the various traditional aspects attached to breastfeeding – the list is endless. Go back with the thought that you are the best mother your baby could have.
Being happy works miracles!
Did you find these tips on increasing breast milk supply useful? Share your feedback with us in the comments section!
Kindly
Login
or
Register
to post a comment.