Pregnancy
Bonita gets nuskhas from around the world Created by Bonnie D. Updated on Feb 28, 2022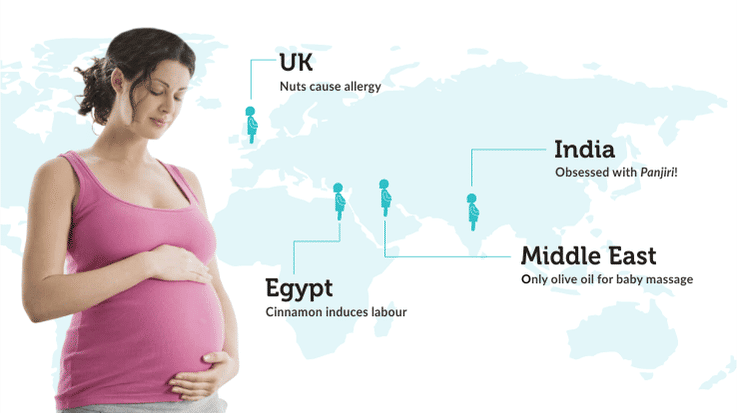 My husband and I lived in Abu Dhabi, UAE for a few years. I delivered both our boys there. While in Abu Dhabi, I became a part of a couple of new-mummy groups and we would meet up weekly for a chat, exchange notes and provide support to each other in the absence of our own parents and family. I was happy and relieved to discuss pregnancy and mommy-hood with a host of different friends from different countries – UK, Germany, US and Colombia to name a few. These weekly chats were a riot – a riot of ideas of all sorts to make life easy during pregnancy and after delivery. I looked forward to these sessions like anything! 
The world of 'nuskhas'
We shared stories, tips, and tricks and of course our own ghar ke nuskhe (home remedies) gathered from family and friends. I remember that in one such weekly meet, there was a dispute on the topic of eating or not eating nuts. Should a pregnant woman or a new mum consume badam (almonds), kaju (cashew), moongphalli (peanuts)and so on? Indian mums said an emphatic 'yes' and the London moms, an equally emphatic 'no'. I heard both the cases, knowing the Indian one pretty well myself. How can we possibly (or shall I say scandalously!) remove panjiri from an expecting Indian mum or new mums diet! How lovingly are we fed the home-made panjiri, which is predominantly a nut-based mixture meant to provide invaluable support to the mother's nutrition and lactation. And it makes sense too (for us in India, that is!). When you are feeling a loss of appetite, consuming a handful of nuts, which are high in the good fats, supports the slow release of energy. But, 'No! no! no!', exclaimed my British friends – and for good reason. The British National Health Service (NHS) has advised against consuming nuts to reduce potential allergies for both mum and the baby-to-be. However, my British desi friend, Manju, herself put up an argument in favour of nuts. Manju had had her children some years before us and well before the NHS advisory. She had happily consumed home-made panjiri and even funnier, her husband would happily sprinkle some of it on his morning muesli. So, that was that – Manju gave back the Panjiri its coveted place in the diet annals of pregnant Indian women, as we patted our growing bellies and thumbed through our copies of 'What to expect when you're expecting.'
The birthing trick
So it follows that when my mum-in-law arrived in Abu Dhabi from Delhi, bringing kilos of panjiri for me, I happily munched my way through it all. It was yummy, that's all I cared! As we got closer to our due dates, we seemingly got wiser on how to ease labour. Some swore that consuming pineapple and papaya induced labour. My personal favourite though was suggested to me while I was in the hospital. I was way overdue, my baby was ready in a breech position and all the readings were normal but there was simply no sign of any labour.
My doctor tried inducing labour even as I chatted with my hospital roommate, an Egyptian mother of two children with her third on the way. When she heard that my baby was overdue, she whipped out her phone, typed something into the dictionary and handed the phone to me. 'Drink this,' she said. I looked at the phone. 'Cinnamon' flashed across the phone screen. 'Boil the powder in water,' she said, adding, 'Trust me…it helps!'. I did trust her and drank copious amount of cinnamon water, and sure enough a day later, I was the proud mother of a baby boy. High five to my Egyptian friend!
What's good? What's better?
A lot of our weekly chats were around foods to consume after birth; tips for healthy lactation; what could give the baby gas or constipation and so on. Interestingly, I found out that Asian mums (from Turkey, the Gulf and India) were inclined towards a  bland diet in the first few months after birth. 'Reduce your consumption of onion, garlic and chilli', they said. 'What you eat passes into your breast milk as well. Avoid too much cauliflower,' shared the Indian and Pakistani grand mums-to-be. 'Your baby could get gassy.' Jeera pani (Cumin seeds water) was an accepted magic potion across South Asian moms – so most of us boiled a few teaspoons of cumin in water and sipped it through the day. My contribution? Well, I added kalonji (onion seeds) to everyone's list of foods-good-for-lactation. 
Essentials on Baby Massage 
As our babies were born, nursed and rocked in our arms, some of us engaged dais to come in to massage us and our newborns. 'Only use olive oil', said the Middle Easterners. 'Don't use olive oil, it darkens the skin', said the South Asians. I've been raised on good old mustard oil, for cooking, for maalish and just about anything else, so I stuck to that. My mum-in-law suggested coconut oil for the baby but the weather had turned cold so we decided against it (as coconut oil has a cooling effect). However, coconut oil was great against preventing diaper rash.
I used olive oil for my son and his skin was – and is – perfectly fine. My mum-in-law would cycle his little legs and cross his little arms, laughing as she gave him his daily stretch. With time, I introduced coconut oil as well as other oils; five years down the line, I still do a daily oil rub for him and I always smear a tiny bit on his nose and nostrils – the last bit suggested by my dad-in-law to prevent colds, and it seems to work.
Dealing with Cradle cap – a common problem 
So, as our newborns turned a month old and then a few months old, we trotted off to paediatricians for vaccinations and monthly check-ups. Some of our babies, including mine, began to get cradle cap. 'It's just a form of dandruff', informed my Lebanese paediatrician. 'It's completely painless and it will go away on its own.' I wasn't worried but when his cradle cap began to spread from his head to his eyebrows it did make him look like he'd had snowflakes fall on him. 'Massage some oil on the scalp and gently comb through just once or twice with a wide-toothed comb. Watch out for the soft spot on the top of the head,' advised my Lebanese neighbour. 'Don't over comb and try and get it all out in one go; do a little bit every day.' Her advice was spot-on and within a week, my son was cradle cap free without any medication. At the time, I had a Sri Lankan lady who would come in to help me every day with cooking and domestic chores. Much to my delight, it turned out that she was excellent with newborns. She showed me how to hold my little one comfortably, how to bathe him and turn him. Most importantly, she showed me how to swaddle him.
Swaddling – a way to ensure your baby sleeps peacefully
Swaddling worked like magic. Here's what I learned: Take a large square of soft cotton cloth (I used my dad's old dhotis),  place the baby on it and wrap him up tight (like a little Egyptian mummy) – this makes the baby feel safe and secure. It did take some practice but within a week, I could see for myself just how effective it was. Babies often flail about in their sleep, that is they throw their arms and legs out and wake themselves up from the movement. Swaddling tucks-in all their arms and legs in neatly, makes them feel secure and helps them – and their mummies – sleep better. 
Weaning – a way to introduce solids to your baby
As we moved onto solid foods, I came across a book by an English nurse called Gina Ford. She is a controversial figure but I found her book on weaning and solid food to be a real treasure. I replaced some of Gina's ingredients with what was easily available at my nearby grocery store, so instead of zucchini I'd use kaddu and lauki. Overall, her food and weaning guidance was sound and by the age of ten months, my son loved kabuli chola, rajma and broccoli. When Daadi came to visit on his first birthday, he happily ate second helpings of her home-made Chinese food. He was an excellent eater until he grew older and realised he was a separate little person with a mind of his own! He has realised he can fuss and pout in the hope of getting jam toast for lunch and someone might just give in to him – but hey, that's another story.
I loved penning this piece for you and sharing my Aby Dhabi experience. I look back at it with so much warmth in my heart – if it wasn't for all that chit-chat with such a lively bunch of moms, I would have surely felt sad and lonely at times. I was lucky to have found them – and a whole lot of 'nuskhas' too!
That was Bonita's story. We would love to hear yours. Write in and feel the joy of sharing your experience with other moms –you have the power to create a positive difference in someone else's life, just like Bonita's groupmates did for her!
This content has been checked & validated by Doctors and Experts of the parentune Expert panel. Our panel consists of Neonatologist, Gynecologist, Peadiatrician, Nutritionist, Child Counselor, Education & Learning Expert, Physiotherapist, Learning disability Expert and Developmental Pead.
Kindly
Login
or
Register
to post a comment.
+ Start A Blog
Top Pregnancy Blogs
Top Pregnancy Talks
Top Pregnancy question