Health
Coronavirus Vaccine During Pregnancy Created by Parentune Support Updated on May 17, 2021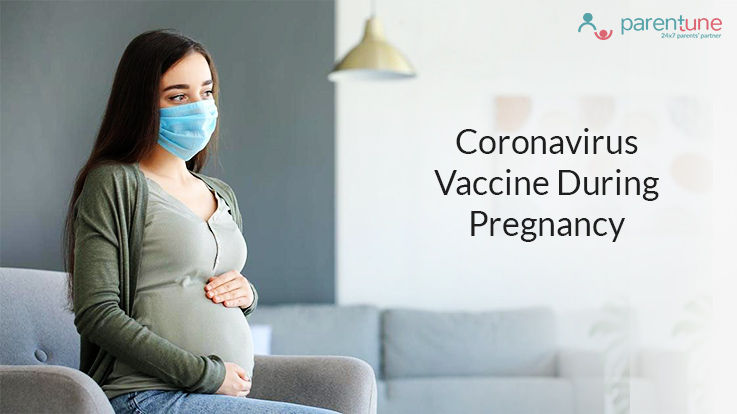 The second wave of Covid-19 ravaging through India is now affecting a very vulnerable section of the population - pregnant women.
Of course, following precautions like using hand sanitizer, wearing a mask, social distancing, and washing your hand can go a long way to protect yourself from the Coronavirus. But it is just as, if not more, important to get vaccinated. But is it safe for pregnant women to get vaccinated? This question has been asked several times ever since the vaccine drive began in January.
This article will shed some light on this topic.
Why Are Pregnant Women Strongly Considering Getting Covid 19 Vaccine?
According to sources, pregnant women, or women who were pregnant recently are more likely to experience several complications as a side effect to COVID-19. This risk increases if the woman in question has any pre-existing medical condition, is older, or is overweight.
In fact, pregnant people who contract COVID-19 are 62% more likely to end up in the ICU and 88% more likely to need a ventilator than a person who is not pregnant. Not to mention how it can affect the pregnancy itself.
Some of the potential side-effects of contracting the Coronavirus include:
Premature labor

Stillbirth

Miscarriage

Birth defects
While these side effects don't always make an appearance, the risk of it is enough reason to be concerned. So, of course, many pregnant women will want to get vaccinated and will be wondering if it is safe.
Coronavirus vaccine for pregnant women in India
In India, the vaccine drive began in January 2021. Currently, we are in the third phase of vaccination and are vaccinating adults between the ages of 18 and 44. This began on May 1.
However, as of now, this does not include pregnant women or lactating women.  While places like the US provide vaccines for pregnant women, the Health Ministry has disapproved of administering vaccines for pregnant women and lactating women in India. This is because there have not been any vaccine trials with pregnant women so far.
Since 2.6 crore women give birth annually, and another 2.6 crore are lactating mothers, there are 5.2 crore women who are left out of the Coronavirus vaccination process, as seen in the source. Hence, this number is inherently more vulnerable to the virus than others.
According to a source, the chairman of the Delhi Commission for Protection of Child Rights (DCPCR) has urged the Union Health secretary to allow pregnant women and lactating women to be vaccinated.
The National Technical Advisory Group on Immunization (NTAGI) has also suggested that pregnant women should offer the choice to take any COVID-19. After all in the current situation, the benefits of vaccinating pregnant women today far outweigh the risks.
And here comes a piece of relieving news for the expecting mothers in India. Financial Express reports in the next two to three days, the Indian health ministry most probably will issue guidelines on the use of vaccination for pregnant women. This could be a very important development in fighting the coronavirus.
Coronavirus vaccine during pregnancy: What is happening globally
Around the world, pregnant women are receiving vaccines for Coronavirus. This is beneficial for both the woman and the unborn child.
In the US, the Moderna vaccine and the Pfizer vaccines have been deemed safe to use for pregnant women. These vaccines are around 95% effective.

According to the source, 35,000 pregnant women who received one of the vaccines between December 14 2020, and February 28, 2021, were observed. They showed no health concerns.

Women who received the vaccine while pregnant, or became pregnant soon after receiving the vaccine, also participated in a CDC survey. It indicated that the number of premature births, miscarriages, and other adverse results of pregnancy was the same as the number before the pandemic.

The American Journal of Obstetrics and Gynecology also found that receiving a vaccine while pregnant might even offer some protection for the baby because the antibodies were found in breast milk and the umbilical cord.
Which vaccine is suitable?
It is suggested that pregnant women and lactating mothers be given Mrna vaccines, as they are tried and tested, and proven to be safe. This includes the Pfizer-BioNTech vaccine and the Moderna vaccine.
The US and Israel are providing mRNA vaccines for pregnant women, and so far, no ill effects have been observed.
Is the coronavirus vaccine safe for pregnant woman?
While India advises against vaccinating pregnant women, other countries like Brazil and the USA allow such women to get the vaccine. In fact, most experts say that the Coronavirus vaccine is unlikely to harm pregnant women.
Even in India, vaccine trials are being planned to ensure that the vaccines available in India are safe for pregnant and lactating women.
A study published in Obstetrics & Gynecology shows us something interesting. Usually, whenever something goes wrong in a pregnancy, we can discover what happened through the placenta. However, the COVID-19 vaccine does not damage the placenta at all.
It was also found that COVID-19 antibodies are safely transferred to the baby from the mother, meaning the baby may already have some protection against the virus from before birth.
So, while there is not enough information regarding Indian vaccines, there are other vaccines worldwide that are safe for pregnant women.
Getting vaccinated is a personal choice
When the vaccine does get approved for pregnant women, you will be able to choose which vaccine you want. It will be your choice whether you receive a vaccine.
It would be prudent to consult your doctor before taking a decision, as there are some factors such as immuno-deficiency disorders and other pre-existing health conditions that may make it unsafe for you.
However, if you can get a vaccine, it is recommended that you do so, for the good of yourself and the community at large.
Vaccine side effects
There are side effects to COVID-19 vaccines that nearly every person who gets vaccinated reports. For the most part, pregnant women who take mRNA vaccines report the same side effects as those who are not pregnant.
One common side effect is a mild fever. If you experience such a fever after getting vaccinated, you can remedy it with Tylenol. This is important as fever can cause ill effects for pregnant women.
According to a study, while pregnant women do report pain at the injection site more than other people, they report less of the after-effects like headache, muscle pain, and fever.
Conclusion
Currently, vaccination is not available for pregnant women in India, as the trials are just being conducted. However, mRNA vaccines available in other countries have been proven to be safe for pregnant women.
When the vaccine does become available, it would be wise to take it, as long as you have no underlying condition making it unsafe. It is very unlikely that the vaccine will harm you or your baby in any way.
You will always be able to take a vaccine of your choice. Discussing the matter with your doctor and doing your research will allow you to take a vaccine suitable for you, and live free of the Coronavirus.
This content has been checked & validated by Doctors and Experts of the parentune Expert panel. Our panel consists of Neonatologist, Gynecologist, Peadiatrician, Nutritionist, Child Counselor, Education & Learning Expert, Physiotherapist, Learning disability Expert and Developmental Pead.
https://health.economictimes.indiatimes.com/news/industry/covid-19-vaccine-safe-during-pregnancy-us-cdc/82241820
https://indianexpress.com/article/explained/explained-study-finds-covid-19-vaccine-does-not-damage-the-placenta-in-pregnant-women-7312763/
https://www.financialexpress.com/lifestyle/health/india-may-soon-allow-covid-19-jab-for-pregnant-women-but-where-are-the-vaccine-stocks/2251718/
https://www.who.int/news-room/qa-detail/coronavirus-disease-covid-19-pregnancy-and-childbirth
Kindly
Login
or
Register
to post a comment.