Parenting
Deltacron: A new Covid variant, should we worry? Created by Riya Thomas Updated on Feb 15, 2022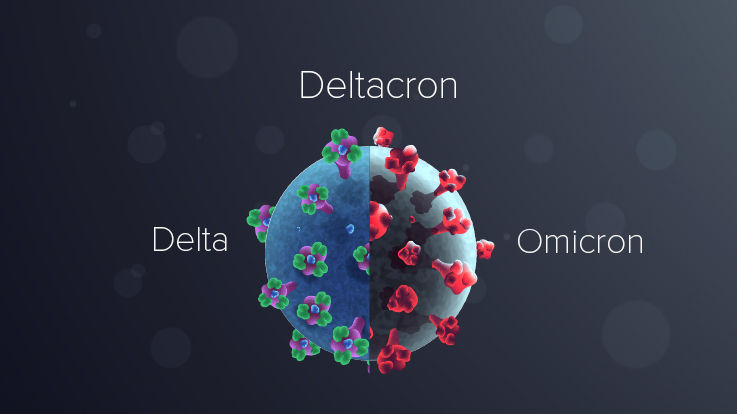 Just when the Omicron variant-driven Covid third wave is fading away, researchers at the United Kingdom Health Security Agency (UKHSA) have said they are officially monitoring a new Covid variant Deltacron, a hybrid of the Delta and Omicron variant.

​The name 'Deltacron' is the combination of the Covid19 strains 'Delta' and 'Omicron' and The UK health officials confirmed over the weekend that they are monitoring the new Covid strain called 'Deltacron'.
Deltacron:  A new covid variant, should we worry?
Health officials in the UK identified a patient who was simultaneously diagnosed with the Delta and Omicron variants of Covid19. At first, it was assumed that it was a laboratory error. But that could very well be true.

The UK Health Security Agency update included 'Delta x Omicron Recombinant' as a sign that it is currently being monitored and investigated. There are confirmed cases in the UK, although no further details have been given.

According to the UK Health Security Agency's weekly variant surveillance report, it is unclear whether it was imported from or originated in the UK, the Daily Mail reported.

UKHSA officials also don't know how contagious or serious the newly developed virus is, or if it will affect the performance of the vaccine. A UKHSA source insisted officials were "not concerned" about the variant, according to the report, as the number of cases was "low". The agency also did not reveal how many times it has been spotted.

According to Professor Paul Hunter, an infectious disease expert at the University of East Anglia, it "shouldn't pose too much of a threat" because the UK has huge levels of immunity against the original Delta and Omicron strains.

Deltacron variant latest update: 5 points to know
Deltacron was first reported from Cyprus last month, but was later dismissed and put down to sample contamination.

Several "recombinant" variants have been detected in the pandemic, but they have not led to any serious outbreaks.

Scientists say it is "rare" for these to occur, but when they do the variant is normally "less fit" than its rivals and easily outcompeted.

Deltacron "will have shared antigens from both Delta and Omicron and we already have high levels of immunity to those", Hunter said.

"So in theory it should not pose too much of a threat. But nobody can predict everything with certainty, but at the moment I am not overly worried," he noted.
What experts have to advise?
 
Given the recently acquired immunity from Omicron variant among a large section of the population, senior public health officials in Hyderabad point out that chances of new variants of concern triggering a full-blown surge appear remote.
However, at the same time, they also pointed out that the SARS-CoV-2 virus and its many variants are mutating at a very accelerated pace. "In the coming months, there could be a point where at least one new variant starts getting a foothold among the community due to its unique mutations. There is a definite need to be vigilant and focus on genome sequencing," health officials here said.
Kindly
Login
or
Register
to post a comment.
+ Start A Blog
Top Parenting Blogs
Top Parenting Talks
Top Parenting question