Health
Summer Skin Care : Benefits of using ice cubes on face Created by Riya Thomas Updated on May 16, 2022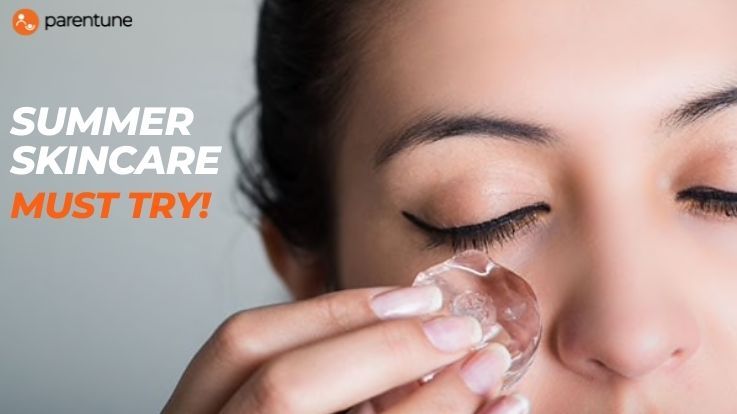 Ice cubes are the perfect remedy for summers. And for those who were not aware of this till now, ice cubes have a lot of beauty benefits and are great for the skin, especially in summers. Here are some of them
 
Soothes sunburn : The easiest way to treat sunburn is to rub a few ice cubes on the affected area. This will help ease the pain by providing a cooling sensation and also by absorbing the heat from the skin.

Refreshes the eyes and reduces eye strain : The face, especially the eyes, is where the tiredness of a person shows immediately. For instant relief, you can dip some cotton balls or eye pads in iced water for a few seconds, squeeze them and place them on your eyelids to feel the discomfort just disappear. Add a few drops of rose water to the iced water for a refreshing feeling

Heals and prevents acne : ​​it is one of the natural ways to ease out those breakouts and unwanted zits. Using ice on acne-prone skin can help reduce redness, soreness, and the possible appearance of acne. 

Soothes and calms skin  inflammation : Ice is known for its anti-inflammatory properties and is a great pick to ease out all the inflammation caused by excess summer heat. It also helps in getting rid of puffiness on the face and around the eyes and mouth. 

Improves blood circulation : Rubbing ice on your face helps enable proper blood circulation which in turn promotes clear and glowing skin. It also lends a soothing and calming sensation to the skin. 

Reduces threading pain : Getting your eyebrows done and hate the pain? Just rub an ice cube over the brows before going for a threading or tweezing session. This will help to reduce the pain and even the inflammation post plucking.
How to safely ice your face
All you need to ice your face is, well, some ice. But do not apply it directly to your face , as it could cause irritation and redness.
Instead, wrap an ice cube in a thin cloth, which will protect the skin on your face and your hands, and begin to lightly massage your face. Rub the ice around your face in a circular motion.  Lightly massage the following areas:
Around your mouth.

Cheeks.

Chin.

Forehead.

Jaw.

Nose.

Are there any points you would like to add to this? We'd love to hear them. 
Kindly
Login
or
Register
to post a comment.