Parenting
Unlock The Common Myths Around Breastfeeding Created by Ridhi Dogra Updated on Jul 29, 2022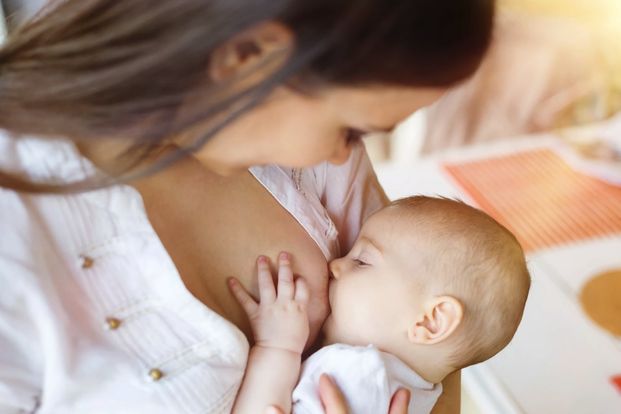 Breastfeeding is a wonderful way to connect with your baby and form a bond that is well surrounded by love and warmth. Breastfeeding has the potential to make the first touch of the mother special for her baby thereby forming a bond for a lifetime. Apart from the love and warmth, the breast milk is very healthy for the baby since it is packed with all the essential nutrients and antibodies that will strengthen the immune system of the baby. Though breastfeeding offers exceptional benefits to the baby, there are certain myths that the majority of the mothers are unaware of. So, in this article we will try to bust the myths around breastfeeding. 
Myths Around Breastfeeding
1. Breastfeeding Hurts at the Beginning- The most common myth that we have heard for breastfeeding is that it is a painful procedure and it always hurts in the start. In fact most of the mothers experience nipple pain when they are experimenting with different feeding positions and latching. But when the baby is well-latched on the breast, it should not hurt. 
2. You Have to Have a Perfect Diet for Breastfeeding - Another myth that we commonly hear about breastfeeding is that the mother who is nursing should have a perfect diet. But the truth is that there is no need to change your diet, because you will make nutritious milk for your baby no matter what. Since you will be a nursing mommie, you will require extra calories. While nursing you will feel more thirstier as per the Centers for Disease Control and Prevention (CDC). However, there is no need for a special and a dedicated diet for breastfeeding. 
3. Most Mothers Can't Produce Sufficient Milk - Another myth that has been around the corner for many years is that the majority of mothers cannot produce enough milk. However, as a nursing mother you should remember that the production of milk is determined by how well the baby is latched on the breast, and how well is the baby removing milk while he/she is being fed. To add to this, proper guidance from the health care providers, and with right eating and drinking well, the mothers will be able to produce sufficient milk for her baby. 
4. You Should Not Breastfeed If You're Sick - This is based on the fact that what type of illness mothers have, and they can continue to breastfeed even when they're sick. One needs to ensure that the mothers who are nursing get the right treatment, and they are able to rest, eat, and drink well. Furthermore, the antibodies that your body makes to treat your disease and illness will pass on to your baby, thereby helping them build their own defense system. 
5. Breastfeed Babies are Clingy - Every baby is different from one- another. Some babies may get clingy and some may not, no matter how well they are fed. Breastfeeding offers not only the best nutrition for the infant but it is also important for their brain development. 
6. You Should Wash Your Nipples Before Breastfeeding - Washing your nipples before breastfeeding is not at all important. When a baby is born they are already familiar with the sound and smell of the mother. The nipples produce a substance that the baby smells, and has good bacteria that will play a key role in building a stronger immune system in babies. 
7. Breastfeeding is Easy - Babies are born with the ability to to look for their mother's breast. But most mothers need practical support when it comes to the positioning of their baby for breastfeeding thereby ensuring that they are correctly attached to the breast. Breastfeeding takes time and it requires practice for both the mothers and the babies. Since breastfeeding is time intensive, mothers need space and support at home and work. 
Wrapping Up
These are the 7 common myths revolving around breastfeeding. Breastfeeding is a completely natural process and also one of the most special ways to bond with your baby. In fact, even the World Health Organization (WHO) has referred to breast milk as a baby's first vaccine since it offers the antibodies to the child along with boosting their immune system. So, it is advisable to not pay much attention to these myths and misconceptions that have been around the corner. Rather try to gain a better understanding about breastfeeding. 
Promote and Support Breastfeeding!
Kindly
Login
or
Register
to post a comment. | Jul 31, 2022
It's hard to sort the good from the bad sometimes. You definitely put a new spin on a topic that been written about for years. Really amazing post. Thanks for share it. https://www.walgreenslistens.me/ | Aug 01, 2022
Breastfeeding is an act of solidarity and compassion that should be shared with all mothers. Here you check this https://aucklandconcretecontractors.co.nz/ and learn more tips about the layers of Auckland. But the myths surrounding the practice make things difficult for many new moms. To unlock those myths, we'll look at the common myths around breastfeeding, what they are, how they originated, and some ways to find better answers.
+ Start A Blog
Top Parenting Blogs
Top Parenting Talks
Top Parenting question