Pregnancy
Amla Benefits, Is It Safe & How Much Amla During Pregnancy?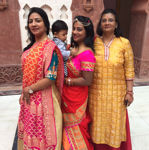 Created by Priya Mankotia Updated on Nov 21, 2019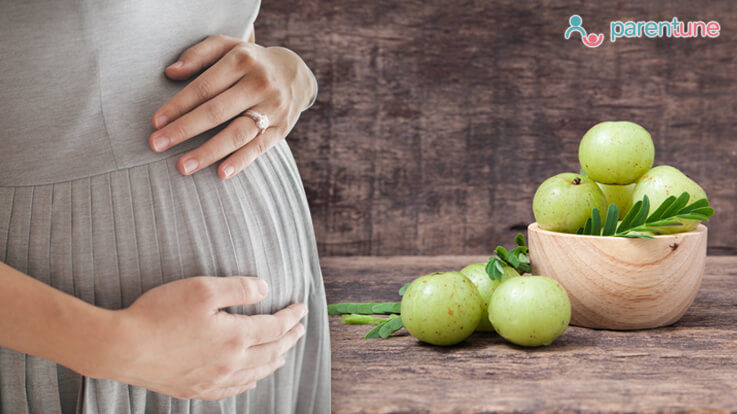 During pregnancy, all of us with what we taste, smell, touch, see or hear should aid in developing a healthy baby with a sound mind. Ayurveda enhances this thought and advocates for following an Ayurvedic lifestyle if practiced during pregnancy will definitely benefit both mother and child.
According to Ayurveda, amla or the Indian gooseberry has an inevitable role throughout the pregnancy period of a woman. Its benefits are also passed down to us from our older generations. We all would have tasted this "wonder fruit" because it is very commonly available in India. One of the best things about this winter fruit is that we are able to use its benefits throughout the year. This is possible because its nutritional value does not get destroyed even if it is stored in powdered form. [Know - Amla(Gooseberry) Benefits & Ways to Include It in Child's Diet & Recipes]
Amla is an excellent blood purifier and is wise to take it throughout your pregnancy as it helps to stay detoxified. Another great thing about amla is it does not have any side effects. So it is safe to eat amla during pregnancy
What Are The Benefits of Eating Amla (Gooseberry) in Pregnancy?
Rejuvenates and refreshes: Amla is an excellent source of Vitamin C, with ample fiber and potassium. Amla is highly noted for its rejuvenating properties. Not only is it packed with vitamins and minerals but it is also rich in antioxidants and dietary fiber.
Helps to Relieve fatigue & Tiredness: Amla is known for its excellent rejuvenating property. This will help in regenerating energy in the cells thus reducing the tiredness. Drinking amla juice or eating amla has been proven to reduce morning sickness and is good for the health of teeth. Its sweet and sour taste helps to diminish the nauseating feeling throughout the early trimester of pregnancy
Preventing Constipation: Amla is high in fiber and we can also say it is a moderate laxative. This helps to regularize the bowel movements and prevent constipation during pregnancy -- quite a common problem during pregnancy
Improves Digestion: Amla is found to stimulate the production of gastric juices, therefore, improving the digestion and permit the absorption of more nutrients. Eating amla regularly during pregnancy helps you out of usual pregnancy problems like indigestion and gas formation
Enhances Immunity: The anti-bacterial property of amla and its high vitamin C content helps to fight the infections from the common cold to urinary tract infection usually show up during the pregnancy
Maintaining Normal Blood Pressure: Vitamin C that found in abundance in this berry makes the blood vessels dilate thus helps in sustaining normal blood pressure
Eradicating Anemia: Amla is a rich source of vitamin C and iron. With the help of vitamin C, iron gets absorbed easily by the blood and, therefore, the hemoglobin level is well maintained. So, eating amla daily helps to fight anemia
Detoxification: Intake of amla helps in increasing the frequency and quantity of urination because of its high water content. This berry also has antioxidant properties which help to eliminate the free radicals. This helps in flushing out the toxins from the body
Helps In Oedema: Amla has anti-inflammatory properties. Thus, regular consumption of amla helps to reduce the swelling of hands and feet during pregnancy
Helps to Eliminate Gestational Diabetes: Gestational diabetes is a condition found during pregnancy when pregnancy hormones interfere with the action of insulin in the mother's body. This results in the development of diabetes in mother who doesn't have a previous history of diabetics. The anti-diabetic quality of gooseberry will help in reducing the chances of getting gestational diabetes
Amla is High in Calcium: Calcium content of the fruit is quite noticeable. Calcium is essential for the development of your baby's teeth and bones. Required calcium for your baby is extracted from your bones. This shows the necessity of immediate calcium supplement the doctor prescribes for you. Regular consumption of gooseberry itself satisfies sufficient intake of calcium
Some of the other benefits of eating Amla during pregnancy are:
Consuming amla juice is said to improve the brainpower of fetus, although it is not scientifically proven yet
It is said that if you eat amla regularly during pregnancy the chances of undergoing preterm labor decreases
Amla helps to maintain the perfect lipid profile which is highly favorable during pregnancy
How Much Amla Can Be Eaten Daily During Pregnancy?
Two fresh amla fruit per day won't do any harm during pregnancy. If you are taking amla in powder form, 4gms – that is equal to one teaspoon – daily is enough.
Can I Eat Cooked Amla During My Pregnancy?
Boiling the Indian gooseberries before eating is not appreciated because all the vital nutrients will get lost through this process. If you prefer not to eat raw amla fruit then opt for steaming. But we suggest eating raw gooseberries or drinking Amla juice which are fully beneficial. If you don't like it mix one to two teaspoons of the amla powder in some water and drink it. Amla powder retains all the goodness of fresh amla. You can powder-dry amla in your house itself and store it in an airtight container. This will guarantee its quality.
When Should I Avoid Eating Amla During Pregnancy?
Amla has no side effects. But it is recommended not to eat amla if you are suffering from diarrhea for some reason or if you already have a cold or a cough. This is because as amla is a moderate laxative, eating it when you have loose motions is not a good idea. Same way, as amla has the cooling effect on your body which is not good when your body is already been affected by a cold or a cough.
Recipes Of Amla When You Are Pregnant
#1. Traditional Amla Murabba Recipe
Amla Murabba Ingredients
1 kg amla
2 tsp chemical lime
1 1/2 kg of sugar
6 cups of water
1 Tbsp lemon juice
Method For Preparing Amla Murabba
Prick amla with a fork
Dissolve 1 tsp lime in water and soak amla overnight
Remove and wash well
Repeat once more
Drain and wash thoroughly
Squeeze and rinse to eliminate lime remains
Boil water then add amla
Cook till tender and transparent
Drain and keep aside
Make a syrup with sugar, lemon juice and 6 cups of water
Maintain one thread consistency, skimming off any scum that keeps forming
Add amla, bring to a boil and simmer for 4-5 minutes
Let it cool, then store in a clean airtight jar
You can add elaichi or any other flavoring of your choice
#2. Quick & Easy Amla Chutney Recipe
Amla Chutney Ingredients
1 Tbsp oil
1 Tbsp saunf
1 cup boiled amla
1 tsp dhania powder
1 tsp red chili powder
1 Tbsp ghee
1 tsp bhrami leaves
Salt to taste
Method To Prepare Amla Chutney
In a pan take some oil and add sauf in it
Add boiled pieces of amla
Toss
Add dhania powder, red chili powder, and ghee
Cook for a minute
Now add bhrami leaves and salt
Let it cool
Blend it in a mixer and serve
Hope you have a healthy and happy pregnancy.
This content has been checked & validated by Doctors and Experts of the parentune Expert panel. Our panel consists of Neonatologist, Gynecologist, Peadiatrician, Nutritionist, Child Counselor, Education & Learning Expert, Physiotherapist, Learning disability Expert and Developmental Pead.
Kindly
Login
or
Register
to post a comment.
+ Start A Blog
Top Pregnancy Blogs
Top Pregnancy Talks
Top Pregnancy question