Parenting
Babycare
Health
How L.Reuteri (Probiotic) Helps In Keeping Colic Away? Created by Vandana Chawla Updated on Apr 18, 2019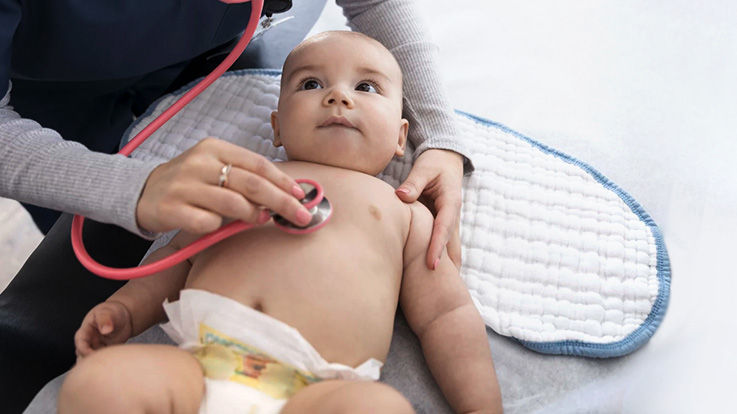 As a new mum, you are prepared that your baby will cry,  but there are some babies who cry a whole lot more than others. It sure is painful to see your baby crying incessantly. And, no matter how much you try to soothe your baby, sometimes all your attempts may go in vain! Sometimes, you may feel helpless, or feel something is wrong with your feed, or maybe that you are not feeding the baby enough. Has it happened to you? So what could be the reason that your baby is crying? [Expert answers – How L.reuteri Probiotics Help Keep Baby's Tummy Problems Away?]
What Is Colic?
Colic is not a disease but a combination of many factors. It can occur in one in three babies and is usually seen in babies from 2 to 4 weeks after birth. The colic may stop suddenly or end gradually, with some good and some bad days. In the meantime, a little knowledge and a lot of patience can help you pass through this phase.
What Are The Symptoms Of Colic?
Colic is diagnosed by doctors by Rule of 3, which means baby cries 3 times in a day three times a week and this is usually seen till 3 months of age. When suffering from colic, the baby cries hard for a long time despite your efforts to calm the baby down. The crying usually begins around the same time on most days and mainly after meal times.

Colic episodes may last from a few minutes to three hours or more on any given day. Baby feels better after passing motion, or after passing gas. Baby's tummy may look bloated or hard in case of Colic.

Colic crying is intense and is often high pitched and baby's face may flush. During Colic, baby curls up legs, clenched fists and you can notice the abdominal muscles getting tensed and hard.
What Are The Causes Of Colic?
Cause of colic is still not fully understood. It can be due to a combination of many factors, like Lactose intolerance, allergies, immature digestive system, anxiety in parents or the way baby is fed and comforted after a feed.
In addition to this, excessive crying in babies could be due to certain bad bacteria in the baby's intestines, which may be making it red, swollen and tender. If there are bad bacteria, then what about the good bacteria in the baby's intestine. Can it treat or prevent Colic in baby and what is this good bacteria??? The answer to all these is in understanding probiotics and how probiotics like L.reuteri helps in preventing and managing colic in babies.
What Is Lactobacillus Reuteri (L.reuteri)?
Lactobacillus reuteri ( L. reuteri) is a probiotic bacteria that live in the mouth and gut. It helps to prevent many health issues in babies & children. The most notable benefit of L.reuteri is that it's effective in treating colic in babies. L. reuteri functions through the production of a natural antibiotic substance called reuterin. Reuterin prevents the growth of harmful bacteria, yeast, and fungi thereby resulting in a healthy gastrointestinal tract. [Know - Why Baby Needs L.reuteri Probiotic?]
Babies with colic have shown to have a low count of Good Bacteria in their intestines, researchers wondered if giving babies Probiotic supplements, like L.reuteri will help solve the colic. One such study conducted by researchers in Italy, published in *Pediatrics, 2007, (reference is given below), indicating that by administering L.reuteri to breastfed colicky babies, colic was resolved in 95% of the babies. The total minutes of crying were recorded which reduced over a period of time.
A study published in **JAMA Pediatrics (2013), suggests that L. reuteri may be effective as a treatment for crying in exclusively breastfed infants with colic.
Probiotics are live microorganisms/good bacteria that help in digesting food and extract all the necessary nutrients. In addition, they help in developing baby's immune system. They remain intact throughout the digestive process and deliver Healthy/Good bacteria directly to the large intestine.
But, it is very important for a mom to discuss the use of probiotics for your baby with your doctor before using them. Your doctor can discuss the need to use probiotics and may recommend them or another course of treatment most appropriate for your baby. [Read: L.reuteri - Probiotic Way to Soothe Your Baby's Colic Crying] 
Reference Sources:
* SavinoF, PelleE, Palumeri E, Oggero R, and Miniero R. "Lactobacillus reuteri (American Type Culture Collection Strain 55730)Versus Simethicone in the Treatment of Infantile Colic: A Prospective Randomized Study". Pediatrics 2007;119;e124-e130.
** Sung V, Collett S, de Gooyer T, Hiscock H, Tang M, Wake M. Probiotics to Prevent or Treat Excessive Infant Crying: Systematic Review and Meta-analysis. JAMA Pediatr. 2013;167(12):1150–1157. doi:10.1001/jamapediatrics.2013.2572 This content has been checked & validated by Doctors and Experts of the parentune Expert panel. Our panel consists of Neonatologist, Gynecologist, Peadiatrician, Nutritionist, Child Counselor, Education & Learning Expert, Physiotherapist, Learning disability Expert and Developmental Pead.
Kindly
Login
or
Register
to post a comment.
+ Start A Blog
Top Parenting Blogs
Top Parenting Talks
Top Parenting question