Food and Nutrition
How to Help Your Toddler Eat Right? 5 Must Know Facts Created by Puja Sharma Vasisht Updated on Aug 20, 2021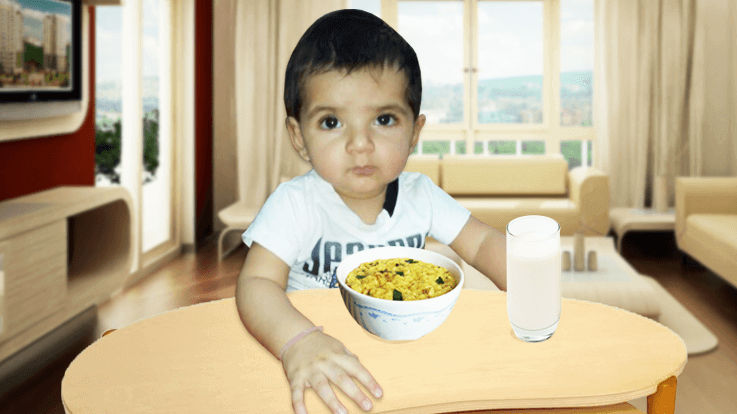 Children tend to be fussy eaters these days. Sometimes, children with seemingly good appetites also, start throwing tantrums while eating, bringing to life a mother's worst nightmare. And this is especially true in the toddler age group; that is 1-3 years. This is the time when your little baby has just learned to say no, does not wish to stop his explorations to sit and eat his meal, and food becomes the first casualty. But experts believe, that is also the very crucial stage, wherein parents can set food habits and patterns for their children that will last a lifetime. [Must try - Daily Diet Plan for your 4 years child?]
So, we discuss here not only what foods to give, but how and also try and decode the wiring of a toddler's brain vis-a-vis food. This blog explores the same and gives handy tips too.
Must Know Facts to Help Your Toddler Eat Right
A toddler not eating is not something new. As parents ourselves, we've been through this and as fellow parents, have heard it quite often. But is not eating or less eating just a physical thing with a toddler or is there something we as parents need to understand the behavior of the child vis-a-vis food at a growing stage?
Why Do Toddlers Suddenly Stop Eating?
Your little chubby angel, who till a couple of months back was gulping down whatever you gave to him in a spoon, has suddenly gone on a crash diet it seems. Where he was possibly eating two bananas till yesterday, today he balks at the sight of even one. Why?
To assure it, it has nothing to do with your parenting or culinary skills. The secret lies in the growth pattern of a baby. An infant may triple his birth weight in the first year and so requires a lot of food. But by the second year, the growth is much slower. This means the body needs lesser food than it was consuming in the previous months, respectively. On an average, the total healthy weight gain for the entire second year is only about 2-2.5 kgs and height gain is about 10 cm. With their little bodies needing lesser food, their appetite also plummets. Result? Your cherubic angel is eating lesser food, which is perfectly normal and natural. So, rest assured that your baby, though is eating lesser volumes of food comparatively, is still eating sufficient for himself.
Food Pattern Needs to Undergo a Change
But here's a catch, with muscle development being high at this stage, the food pattern needs to undergo a change. From focussing on larger quantities of food, at this stage, children require more nutrient-dense foods. So make sure, you serve them
A variety of foods: more the variety means, more variety of nutrients. Use different types of daals for his khichdi, expose him to as many vegetables and colorful fruits. If it was an apple for breakfast, give him a mango for an evening snack
Give smaller meals but with the larger number of food groups covered in it: Instead of an overflowing bowl of dalia, try a smaller quantity of dalia supported with curd or daal on the side, and maybe a mashed vegetable as a salad.
Try balancing all food groups: Shift the focus from getting him to eat weight-increasing foods to get him to eat healthy foods. Full fat milk can be replaced with cheese and paneer. Ensure foods rich in calcium, iron, and other nutrients reach his diet also.
[Must Explore: How to Introduce Positive Eating Habit in Fussy Eater?]
How to Support The Change in Their Behavior rather than to Create Stress
There is a sense of individuality developing in these toddlers, hence they start demanding independence everywhere, be it their clothes, toys or food. They want their preferences to be heard . They want to eat the food of their choice and amount and that too on their own. This may create a loss of mess in the house, but remember, the earlier you teach them to be independent, the better it is for the child. They can be served finger foods such as:
Thinly sliced or chopped pieces of fresh fruits: such pear, apple, mango, banana, peach--depending on the age of the child, they can either be stewed slightly or gives raw
Sticks of vegetables: such as carrots (again steam if the child is very young), slices of cucumber and/or tomatoes
Convenient snacks: Wholegrain biscuits (preferably homemade)/freshly baked cake slice or muffin/breakfast cereals like corn flakes/wheat flakes
Soft foods cut into slices: Cheese /cottage cheese cut into thin slices or shredded (or mashed and rolled into small balls.), hard-boiled egg
Bite-sized foods: chapattis broken into bites/bread also cut into handy pieces/small idlis or idlies cut up
Laddos/Burfi's: made of vegetables such as lauki and carrot
Also Check: Healthy Fun Food Recipes for Toddler
Why do Children Start Rejecting Some Foods which they Enjoyed Earlier?
Children of this age have more taste buds, than we have, as adults. So a vegetable like cauliflower or garlic added to vegetable has an amplified flavor for the little one. It may be a big turn off for them, making them reject strongly-flavored foods. This is especially true for bitter foods, spices, and chilies. So, to help them overcome this:
Keep seasonings mild in their food: experiment with different herbs and spices to figure out what they enjoy (use fresh herbs or whole spices so that they can be extracted at the time of serving, hence controlling their flavor)
Avoid strongly flavored foods: like turnip, cauliflower, garlic, ginger etc., if the child doesn't enjoy it: give the child a break and try again after a few months.
Mask the flavor of certain foods by adding/combining with milk, potato, cheese or cereal: experiment with flavors, textures, and food styling.
Helpful Read: Why Is Chewing Food A Problem In Toddlers?
How to Make Them Eat the Right Foods?
There are imitation and sex identification also developing in this age group. This leads to girls imitating mothers and boys imitating fathers. So, examples set by parents in food behavior are important...
Eat yourself what you want your child to eat: If the child has never seen you munching on an apple, chances of him picking one up are less. Parents eating healthy foods, have it easier, to make their child eat healthily.
Know Preference for Food Textures: Teething has also started by this time. This leads to the preference of textures and solid is preferred over pureed food. Toddlers enjoy graininess of rice, the chunkiness of fruits, the hardness of the biscuits, etc. So this is the right time, to introduce these. Caution needs to be exercised when the toddler is eating to avoid any hazard of choking.
Make Food Accessible: Keep some healthy food items such as dry fruits and nuts, whole uncut fruits, etc at an accessible level for the child. Stow in clear containers and bowls where the child can see what is in it. The bright orange color of orange might just tempt him to experiment with it.
Give a favorite with a new food: If you are apprehensive whether he will eat a new subzi you've cooked, serve it in a plate with a long-time favorite. Eg: Roti-subzi with a slice of mango or dalia with a cheese slice on the side. Even if new food is rejected, continue offering them, after some time gap. It may take several tries before a child is receptive to eating something new.
Helpful Read: What Should Be Right Nutrition & Diet for Your Child?
What is a Good Eating Pattern for Toddlers?
While it is important to remember that each child is unique, here are some suggestions that you can try and work with your fussy toddler.
Break meals: Rather than 3 large meals, give three smaller-portioned main meals and h 2-3 snacks.
Have sufficient gap between meals: On an average, 3 hours between main meals and 1.5 to 2 hours between snacks.
Encourage self-eating: Serve food in a form that they can manage themselves. Make sure sitting is comfortable when they are eating.
Eat as a family: Eat together as a family and ensure the child eats the same food as you do.
Give enough exercise: Don't just focus on meals. Ensure the child gets enough outdoor play too to build up an appetite.
With these tips in your hand, making your toddler eat might just become simpler. Remember what the child eats and how much he eats should also be his perception and decision rather than solely parents. After all, can we eat all the time or very frequently in the day or eat the same food again and again. Think about it !
This content has been checked & validated by Doctors and Experts of the parentune Expert panel. Our panel consists of Neonatologist, Gynecologist, Peadiatrician, Nutritionist, Child Counselor, Education & Learning Expert, Physiotherapist, Learning disability Expert and Developmental Pead.
Kindly
Login
or
Register
to post a comment.