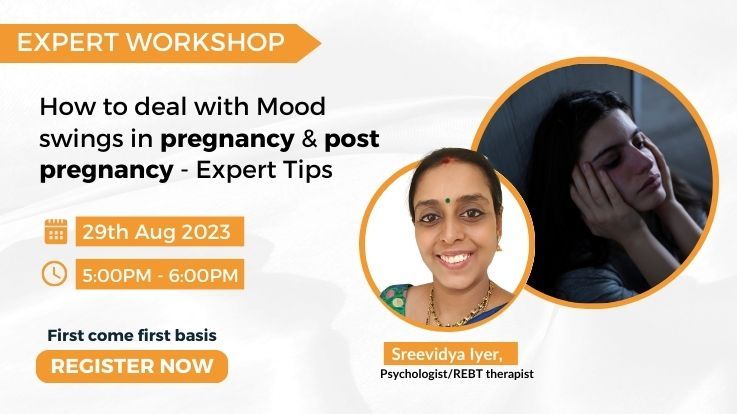 How to deal with Mood swings in pregnancy & post pregnancy - Expert Tips
Aug 29, 2023, 3:09 pm - 3:09 pm
Have you ever felt like you're laughing one moment and tearing up the next, without any obvious reason? You're not imagining things. Did you know that up to 80% of pregnant women experience mood swings during pregnancy, and about 10% struggle with depression post-pregnancy? It's time to address these emotions head-on and regain control over your emotional well-being.

Join this Expert workshop to understand Mood swings in pregnancy & post-pregnancy from Psychologist and Counsellor Sreevidya Iyer.


What You'll Learn:

1. Expert Insights: Gain valuable insights into the science behind mood swings, hormones, and their effects on your emotional state.

2. Practical Strategies: Learn practical, easy-to-implement strategies to manage mood swings effectively, helping you feel more in control and at peace.

3. Coping Mechanisms: Discover a toolkit of coping mechanisms that can make a world of difference in handling stress, anxiety, and overwhelming emotions.

4. Community Support: Connect with fellow moms-to-be and new moms who are on a similar journey. Share experiences, learn from each other, and build a strong support network.


FAQs:

Q: Is this workshop only for first-time moms?

A: Not at all! Whether you're a first-time mom or already have little ones, our workshop is tailored to address the emotional needs of all pregnant women and new moms.

Q: I'm not sure if I'll be available for the entire duration of the workshop.

A: Life as a mom can be busy! While we encourage attending the full workshop, we understand if you have to step away. A recording of the workshop will be available to all registered participants.

Claim Your Emotional Well-being Today!

Motherhood is a remarkable journey, and managing your emotional well-being is an important part of it. Let's work together to embrace the highs and lows with grace and confidence. Reserve your spot now and unlock the secrets to emotional balance during and after pregnancy.
Sreevidya Iyer, Psychologist/ counsellor/ REBT therapist.
Psychologist/ counsellor/ REBT therapist.
Pay

₹

99 to register now
Skip
Please complete the form to send your question to Sreevidya Iyer