Health
Is Coconut Water Good for Your Baby? - Quantity, Benefits, Best Time to Give this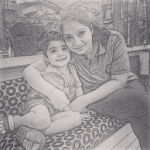 Created by Cheena M Gujral Updated on Jun 28, 2022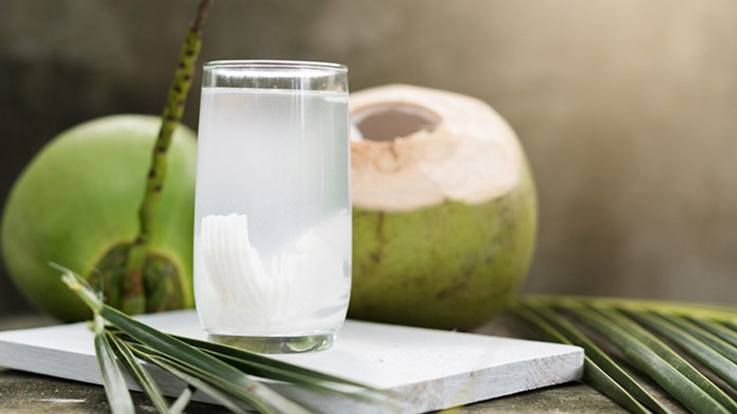 The coconut tree is truly a gift of nature and provides all the basic essentials for humans to sustain life. Coconut water is a miracle drink, for it is a great natural source of vitamin B and proteins, minerals and amino acids necessary for the body. It is also great for digestion and delicious! Try regularly giving your little one this miracle drink and watch them be refreshed, healthy and happy. Today, I am going to share some facts about coconut water, its benefits for your little one, and the best ways to include it in your baby's daily diet.
But first lets answer this question that comes to every new mommy's mind and that is can I give naariyal paani to my baby? Is it safe to give coconut water to my baby? And yes is coconut water good during pregnancy as well? So let's tackle these queries one by one and see how this miracle drink is beneficial to your baby, toddler and child.
Can Coconut Water Be Given To Babies?
Coconut water or 'naariyal paani', is one of the best ways to keep toddlers and infants hydrated. It contains all the essentials vitamins and minerals to sustain life, which is why the coconut tree is also called 'KalpaVriksha'. Coconuts are a rich source of minerals and protein, with natural laxatives that help keep constipation at bay.
When Can Coconut Water Be Given To Babies?
As it is advisable that infants below 6 months be sustained on mothers feed or formula only, you can start giving coconut water to babies who are 6 months or above, or when they generally switch to solids. Grated coconut or chunks of coconut are difficult to chew for babies, so coconut water is the most suitable form for them.
What Is The Recommended Serving Quantity Of Coconut Water For Babies?
A cup (200ml) daily works well for toddlers and few spoons for infants who are 6-8 months. You can adjust the volume later, as per your infant's acceptance of the drink.
What Are The Benefits of Coconut Water For Babies?
Here are 10 health benefits of coconut water for babies and if given from an early age some of the common problems in babies can be easily avoided. So what are the benefits? Here we go
Rehydrating drink: Coconut water is the second best drink to good old water for babies when they need to be rehydrated. Also, if your baby or toddler has been suffering from fever then feeding him or her coconut water will prove quite beneficial
Cures gastroenteritis in babies and toddlers: Coconut water with its right amount of vitamins and minerals is one of the best cures for all the gastro troubles in babies
Helps in relieving constipation in babies: Coconut water is one of the richest source of dietary fibre along with electrolytes that helps in keeping the digestive system of babies healthy and constipation at bay
Cures UTIs in babies: Babies are quite prone to UTIs or Urinary Tract Infection and naariyal paani with its cleansing and healing properties is quite beneficial during urinary infections. Coconut water dilutes the urine, dissolves kidney stones (if any) and flushes out any chemical present in the body thus keeping the baby safe from any infection
Helps in cholera: Naariyal Paani is quite helpful during cholera induced diarrhea that can lead to dehydration in infants and toddlers. And that's when coconut water comes to the rescue, as it is rich in vitamins and minerals it replenishes the lost vitamins, minerals and water from the body. And it is sweet in taste as well; it is well accepted by infants and toddlers
Intestinal worms: Coconut water is a natural resource to fight intestinal diseases like worms. It kills intestinal worms and helps them flush out of your baby's system
Helpful during vomiting bouts: Frequent bout of vomiting may leave your baby dehydrated and at a loss essential vitamins and minerals. Coconut water is a quickest way to replenish the lost and keep your baby hydrated. Also, coconut water helps in settling down the queasy stomach
Naturally sterile: Coconut water can be the best beverage for your baby when travelling - it is naturally sterile. Cut open a fresh coconut, and feed your baby with a clean straw or in a clean bottle
Boosts immunity: Coconut water contains lauric acid, which is found in breast milk. This composition of coconut water makes it an excellent agent to boost immunity in babies and children
Effective against prickly heat rashes: Summers and hot, humid weather can affect your baby's skin and the problem of prickly heat rashes may surface. The very versatile coconut water is known to be an effective remedy for both preventing and treating heat rashes in babies. It is also one of the best things to keep your baby naturally cool during summers How Can I Give Coconut Water To My Baby?
To help you include coconut water in your little ones daily diet in the right way, I would like to share some information on this miracle drink with you. And while there are numerous ways you can give naariyal paani to your baby, I am sharing 4 ways you can give coconut water to your baby or toddler.
This magical drink can be added to your baby's porridge, rice or purees. It could be added to their shakes also
Mix it with salt and lemon juice to help treat cholera
It is advisable to serve coconut water at room temperature
Serve in a cup for toddlers (above 1 year), and using a teaspoon to feed infants is advisable
Parentune Tip: In case you want to wean your baby off the feeding bottle it is advisable to avoid using feeders.
Coconut Water For Babies Instead Of Formula?
Yes, coconut water can be mixed with formula for babies and that's the versatility of coconut water. In fact in countries like Thailand, tender coconut flesh is the first solid food given to the babies that has been made soft for them. Interesting, isn't it? Well yes, considering that coconut water is the second best thing to drink after mother's milk. Also, I came across the fact that in some countries (sorry don't remember the names), coconut milk is given as an alternative to an infant formula. But for that I guess, it is better to consult your doctor first and then decide on giving coconut water to babies instead of formula.
Is Coconut Water Good For Fever?
All of us, especially small babies and children are susceptible to dehydration when the weather is hot and humid. When we get fever, water evaporates from the skin, making us dehydrated and we often feel thirsty and dry. This happens to cool the body but leaves one dehydrated. Coconut water can be an excellent rehydrating agent when you have fever, as it provides instant energy and refreshes the body. For bilious fever in babies, coconut water can be of great help.
How To Choose The Best Coconuts For Drinking?
Choosing the best coconut for your infant or toddler may not be an easy task, but it is not as difficult as well. Just remember that while choosing a coconut for drinking it should be fresh greener coconuts, avoiding the sweeter old ones. The longer they ripen, the lesser is their nutrient value.
Coconut Water For Cold And Cough
Again, cold and cough in babies and children may be accompanied with fever, and hydration thus assumes a lot of importance - coconut water can hydrate the body so as to balance the blood chemistry and electrolytes in coconut water do just about that. However, it may be added that some babies may not tolerate coconut water well when they have a cold or cough.
What Is The Best Time To Give Coconut Water To My Baby?
Coconut water is best served at noon. Ideally it is great when your toddler is back from their playtime, or as a refreshing evening drink.Avoid giving your child coconut water with meals or at bedtime.Although coconut water rarely causes allergies, it is best to give it 2 hours after meals for infants over 6 months – to check whether it suits them.
Are There Any Risks Of Giving Coconut Water To Babies?
Rarely, very rarely, a baby may be allergic to coconut water, but other than that no side -effects of coconut water have been observed. There has been quite a controversy on whether coconut is a nut or a fruit, and families that have a history of nut allergies may want to exercise caution when introducing coconut water to babies. As a rule, always feed your baby in small quantities when introducing any new food. Avoid introducing too many new foods at one time so as to know whether a particular food is suiting the baby or not. Also, coconut is a very good source of potassium, and so is banana. Hence, if you plan to introduce coconut water to your little munchkin, make sure you cut a bit on feeding bananas to the baby.
What Are The Things to Be Kept In Mind While Buying Coconut Water For Babies?
There are 5 important things to be kept in mind while buying coconut water not just for babies and toddlers but in general as well.
Don't opt for packaged coconut water as it has low nutritional value. If you don't have access to fresh coconuts, then look for 100% natural packaged coconut water with 1-2 days shelf life
Refrigeration could help in storing coconut water for a few days but once open, it is best to consume it within ten minutes to avoid any fermentation
Hygiene is quite important. Clean straws and cups before serving to babies
Coconut water is not recommended if your child has a cold and cough, it may worsen the congestion
Gulping it down doesn't fulfil the purpose, so enjoy it and sip it slowly
Remember moderation of fluid intake is quite important for children. It's always advisable to consume any food or drink according to what suits them. Happy coconut water drinking to all you mums and your lovely babies!!
Did you find Cheena's information on the benefits of coconut water useful? How do you keep your little one well hydrated and healthy? Do leave your comments…. We love hearing from you!
Kindly
Login
or
Register
to post a comment.