Pregnancy
Is Suryanamaskar Safe During Pregnancy? Created by Parentune Support Updated on Sep 13, 2021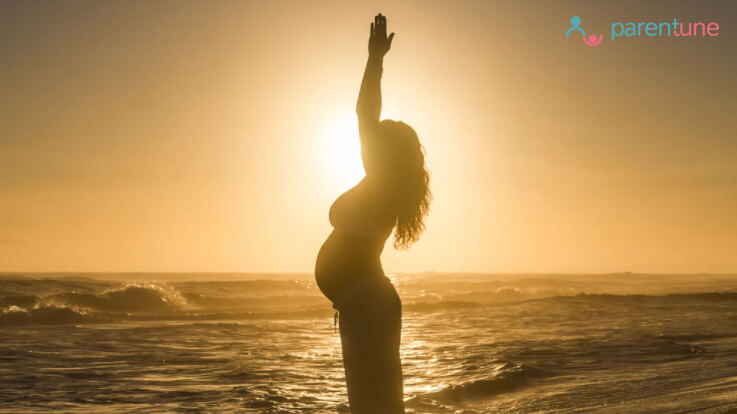 Suryanamaskar in yoga is a group of asanas synchronized with breathing. Suryanamaskara can be considered as a full body workout, stretching and strengthening all joints and increasing the blood circulation. It improves the efficiency of internal organs and glands, the whole endocrine system, and also detoxifies the body.
Now you know Suryanamaskar is one of the most advantageous forms of Yoga. But, is it safe during pregnancy? Continue reading to find out more about Suryanamaskar
Is Suryanamaskar Beneficial During Pregnancy?
Yes, Suryanamaskar can be extremely beneficial during pregnancy, as it literally works every muscle in the body. It can alleviate most of the physical and emotional issues that arise during pregnancy.
Also Read: 3 yoga Asanas To Ease Out Pregnancy
What Are The Benefits Of Suryanamaskar During Pregnancy?
Here are the major benefits of Suryanamaskar during pregnancy.
Increases oxygen supply to the fetus: Throughout the Suryanamaskar you will inhale and exhale deeply. Due to the repetitive inhalation and exhalation, the oxygen level in the blood is increased significantly, thereby, increasing the oxygen and the blood supply to the fetus
Makes the body easily adapt to pregnancy changes: As already mentioned The Suryanamaskar is a cycle of asanas. You have to perform a particular set of asanas in a particular order harmonizing with breathing. The body coordination, which is extremely important during the Suryanamaskar helps the body easily get accustomed to the internal and external pregnancy changes
Makes the mind adapt to the pregnancy change: Many women get annoyed with physical changes induced by the pregnancy. Suryanamaskar helps to calm your mind significantly, making it capable to accept the changes better
Helps to get rid of mood swings: During pregnancy, women are more prone to mood swings. This is mainly due to the surging pregnancy hormones that alter the hormone balance in the body. Suryanamaskar positively influences the endocrine system, thereby, alleviating the mood swings. It will make you feel happy and at peace
Improves energy levels: Doing Suryanamaskar in the morning helps to improve your energy levels for the whole day
Reduces the labor pain: Practicing Suryanamaskar throughout the gestation period will help to bring down the labor pain during delivery
Helps to get rid of pregnancy hypertension: High pressure is a common pregnancy issue, especially, when the pregnancy progresses to the third trimester. This can be avoided by practicing the Suryanamaskar regularly
Alleviate back pain and leg cramps: Suryanamaskar promotes overall flexibility and tones the spine, neck, shoulder, back and leg muscles. Therefore, Suryanamaskar helps to deal with the back pain which is quite common during pregnancy
Brings down the morning sickness: The morning sickness, which is quite common during the first trimester can be reduced by practicing Suryanamaskar
Helps with gestational diabetes: Suryanamaskar increases the blood flow to the various parts of the body, thereby, improves insulin administration. This will bring down the level of sugar in the blood. Therefore, Suryanamaskar will help in controlling the gestational diabetes
Helps with healthy weight gain: Women who practice Suryanamaskar throughout these nine months will have healthy weight gain and stay in shape during the pregnancy
Ok so there are benefits of practicing Suryanamaskar during pregnancy but is it hundred percent safe during pregnancy? Keep reading to know more.
Is Suryanamaskar Hundred Percent Safe During Pregnancy?
Suryanamaskar is highly beneficial and generally considered safe during pregnancy. Even then, pregnancy is the most vulnerable phase of a woman and nothing can be considered 100% safe during this time. Therefore, during pregnancy, you may practice Suryanamaskar if you keep these things in mind.
Ask your doctor before continuing or starting the practice of Suryanamaskar: You should consult your doctor before you continue to practice Surya Namaskar. Even if you feel fit, there are some circumstances that call for reduced physical actions during pregnancy. Your doctor is the perfect person to tell you if you could continue the practice.
Avoid doing it if you have some complication in pregnancy: If you have any complications in your pregnancy avoid doing the Surya Namaskar. After all, it is a whole body workout, and hence, not suggested for those who intended to take bed rest. Stop immediately, if you feel even a slight discomfort: It is very important that you should be fully conscious of your joints, muscle and whole body movement. Whenever you feel tired, or some uneasiness in any joints or muscle, stop the practice immediately.
Be gentle: During pregnancy, you should be gentle in your movements. Do all the postures without causing any strain to your abdomen or back. Also, never expect or force yourself to do the same number of Suryanamaskar that you were doing before pregnancy. You can start by count three and eventually increase the number comfortable for you.
Professional guidance: If you are attempting Suryanamaskar for the first time, then never do without a professional guidance. If not done in a proper manner, it can adversely affect your pregnancy. Even the inhaling and exhaling must be done properly.
Make it a daily practice: You must keep in mind that you should do the Suryanamaskar daily and not skip it without relevant reasons to get the benefits.
Never skip Shavasana: Do not forget to practice Shavasana after completing the Suryanamaskar. If needed, you can take short Shavasanas in between each cycle to ease yourself.
Did you find the blog - is Suryanamaskar safe during pregnancy - useful? Please share your views and feedback with us in the comments section below.
This content has been checked & validated by Doctors and Experts of the parentune Expert panel. Our panel consists of Neonatologist, Gynecologist, Peadiatrician, Nutritionist, Child Counselor, Education & Learning Expert, Physiotherapist, Learning disability Expert and Developmental Pead.
Kindly
Login
or
Register
to post a comment.
+ Start A Blog
Top Pregnancy Blogs
Top Pregnancy Talks
Top Pregnancy question