Parenting
Babycare
How to Help Child to Start Walking ? Created by Parentune Support Updated on Apr 26, 2021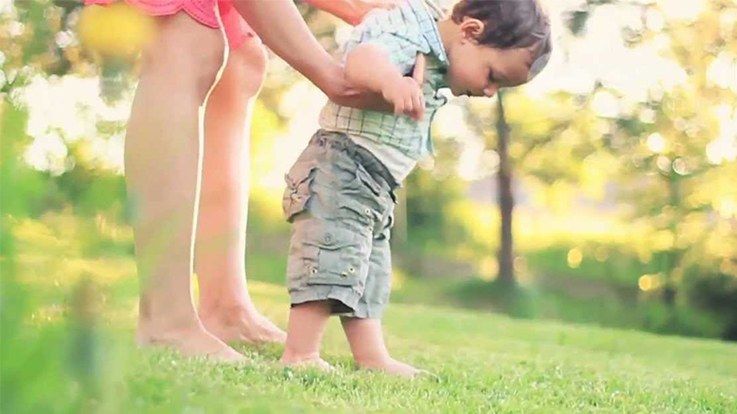 As long as your baby keeps crossing his or her milestones according to the age, you are a happy and content parent. However, if there is a slight miss or just a little bit of here and there timing and you tend to become anxious as a parent. Today, I am discussing one such milestone that has parents worried from all over the country and that is when my baby will walk. So here I am answering all your queries as this tried and tested and expert guided knowledge that I am sharing with you.
Can I Teach My Baby To Walk?
Yes, you can teach your baby to walk. Once you know that your child is ready to take his or her first few steps you can help in making the first few efforts to first stand with some help and then balancing themselves on their feet before they take those first steps making you proud parents.
When Do Babies Start Walking?
Babies usually begin walking when they are between 10 to 18 months old. However, they have a long way to go – from crawling to pulling up and standing to cruising – to get there. Keep in mind that all babies are different, so don't force them. The key is lots of encouragement and practice to get your baby comfortable with walking. [Read - How to Know That Baby Is Ready to Walk?]
Should I Worry If My Baby Is Not Walking?
Unless there has been no reason to worry and that would include your baby reaching all his or her other milestones a little later than usual then no there is nothing to worry about. In addition, if your child is bearing his or her weight on his or her legs and is learning new things then also there is nothing to worry about. However, it is always better to consult your doctor to rule out any doubt or worry and enjoy your baby's crawling stage as much as possible. Like I said, each baby is different so don't force your baby and allow him or her to learn at his or her pace.
Can I Get a Walker For My Baby To Aid In Walking?
While it is a common myth that walkers help babies to walk and of course the elders in my family stating the same I was little perplexed about the use of a walker. Hence I did my own little research and this is what I came across. While there was no active denial for using a baby walker by any Indian pediatrician, when I consulted mine he advised me against the use of one. Another interesting thing that came forward as my search result was that the American Paediatricians strongly advised against using a baby walker as according to them walker not only interferes with the developing muscles but also is extremely dangerous for a baby to navigate and thus may result in severe injuries.
When Can I Know My Baby Is Ready To Walk?
Once your baby has started sitting on his or her own, the next step would be either crawling or in some stages pulling her or him with the support. Like in my case, my child escaped the crawling stage and was standing with the help of bed support. Two to three times he used to just stand for a few days and then one fine day he took his first step with the help of a support. So what I am saying is that your baby will show you the signs when he or she is ready to walk.
Why Do Walkers Delay Walking?
Walkers, it is believed, force those muscles to come into action that is not fully developed yet, thus causing an unusual walking movement in babies. This further can result in unusual pattern movement and also delayed muscle control. And since babies learn to walk in parts wherein they watch and understand how their feet and legs movement, hence a first step forward and then an exploration of that step, walkers don't give that pleasure to the babies. [Know - Why Are Walkers not Safe for Your Baby]
Does Massage Help In Baby To Walk Or Is It A Myth?
Well, it's neither a myth or nor a fact. After all that efforts of sitting, crawling, standing with the help of support put undue pressure on your little one's tiny legs and still developing muscles. Hence a soothing massage will not only help in eradicating that tiredness but will also help in strengthening the leg muscles used for walking.
What Can I Do To Help My Child Take Those Few First Steps?
Well, besides encouraging your child's sincere efforts you can follow these simple tips to ensure that your baby is ready to take the first step…
Toys are a big attraction: Use toys to encourage your baby to stand. Place a toy just out of reach of your baby, above them, and encourage him/her to stand to get it
Help your baby to sit back: Help your baby sit back down once s/he is standing up on his/her own. Most babies start to get up on their feet on their own, before they know how to sit back down, so don't be alarmed if your baby cries for help while in a standing position
Align your furniture to make more room: Line up your furniture so your baby can cruise more easily. Cruising is when your baby starts to use furniture and other objects for support as s/he begins to walk around
Make the effort together: These exercises can help your baby to walk. Allow your baby to grip your fingers and pull him/her up into a standing position, so s/he is basically supporting his/her own weight
Praise the efforts: Praise your baby for his/her efforts. Babies love to please mom and dad and receive praise, claps and shouts of encouragement. So let your baby know when they are doing a great job by offering him/her visible encouragement and praise
Encourage an unaided walk: Encourage your baby to walk unaided. Make your baby stand at a small distance from you and encourage your baby to walk towards you. This could help your baby gain the confidence to take the first step, knowing you are there on the other side
Falling is fine: As long as you feel that your baby is safe to fall like a cushioned surface or a carpeted area let him or her fall while learning to walk as that is all part of learning
And yes - make your baby's first step – a big deal! The first steps are a big moment for your little one, so when that happens, be sure to show your baby how excited you are about it – clap, smile, hug, a kiss; go all out to share your child's first-bit achievement. In all the excitement, don't forget to capture the moment. Keep the camera handy!
Did you find Ranjini's tips on teaching a baby to walk useful? How do/ did you teach your baby to walk? Is there a special memory that you would like to relive by sharing with fellow parents? Do leave your comments…. We love hearing from you!
This content has been checked & validated by Doctors and Experts of the parentune Expert panel. Our panel consists of Neonatologist, Gynecologist, Peadiatrician, Nutritionist, Child Counselor, Education & Learning Expert, Physiotherapist, Learning disability Expert and Developmental Pead.
Kindly
Login
or
Register
to post a comment.
+ Start A Blog
Top Parenting Blogs
Top Parenting Talks
Top Parenting question