Health
Pregnancy
How to to Reduce Belly Fat After Delivery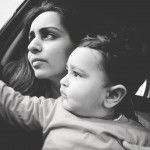 Created by Harleen Gupta Updated on Mar 03, 2020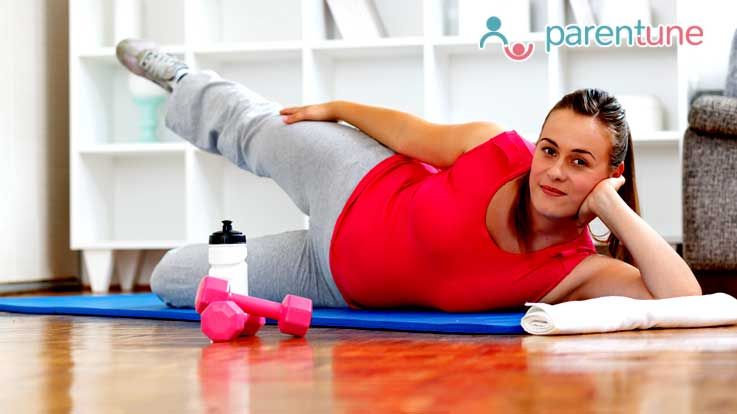 The biggest question(s) on any new mom's mind: Will I ever lose this tummy fat? How much time will it take to get back to my old clothes? Are there any simple, easy home remedies to reduce my huge belly after the delivery? Well, darling, we're all in the same boat. As much as I love my baby and the fact that I gave birth to him, there is part of me that equally adores that slim figure and waistline I used to have before getting pregnant. This is exactly why I told myself that I will not let pregnancy and motherhood get in the way of my health and fitness. And mind you, I am almost as good as I was before giving birth, fitting into my pre-pregnancy clothes. Well, almost. Today, I share my thoughts and tips on how to lose that stubborn tummy fat after delivery.
When To Start Reducing Belly Fat After Delivery?
Don't rush. Trust me when I say that. Your body just gave birth and went through a hell of a lot of trauma for that. It needs time to heal and get back to normal. Wait for at least 6 weeks or discuss with your gynecologist to check for your fitness before starting any exercise or diet plan. After 6 weeks, you should be feeling good enough to get back to the gym. However, the key is to be patient and listen to the body. If you have had a C-section, do take a go-ahead from your doctor so that there is no complication that comes up. A normal delivery with episiotomy may also postpone your plans of exercising until you heal fully. 
Tips to Lose Tummy Fat After Delivery
Since most new mums breastfeed, there are lots of things you can do in terms of dieting and exercising but these would be a better option right after the first 6 weeks. Here are things you can do just after baby delivery:
Consider Excessive Breastfeed: Yes, it's good for you; it's good for your baby. Breastfeeding burns calories without any effort from your end and causes the uterus to contract and shrink. This way you don't have to follow a strict diet and see the results without any effort!
Drink Lime & Honey Water: In a glass of lukewarm water, add the juice of a lemon and a dash of honey. Mix it and drink the water every day on an empty stomach. This will help in detoxification and burn fat from the body.
Eat Bottle Guard: Our very own bottle guard is an absolute blessing (no matter how much we despise the sabzi) in our journey to lose belly fat. It helps burn excess fat and inches you closer to having a flat belly. Drink a glass, every day.
Start Drinking Cinnamon Tea: Drinking cinnamon tea before bed and before having breakfast can also help burn that stubborn belly fat. Add about half a teaspoon of cinnamon in warm water and drink the concoction. In fact, cinnamon is known to have fat-burning properties, so you can simply replace sugar with cinnamon in your regular teas, coffees and even cornflakes!
Use Corset/Belly Wraps: Invest in a corset or belly tucker belt to tuck in the tummy. This will keep the tummy in shape and tighten the muscles over a period. It will also restrict you from eating excess food.
Avoid Sugar/Unhealthy Snacking: Eat healthily and avoid any junk, oily, and sugary stuff. This will help you to keep calories under check and avoid getting fatter sitting at home.
Drink Green Tea: Give it a shot and it won't disappoint you! Have one cup daily to see results. Green tea has been proved beneficial in stimulating metabolism, thereby cutting the extra fat in the tummy region.
Have a Regular Massage: Get a tummy massage to work on the cellulite and dilute it so that it is easy to burn by the body. Massage will also help you feel energetic and relaxed. There are several experienced ladies who do after-delivery massages to help the uterus get into its original shape.
Eat Cabbage: It has been seen that eating cabbage helps in decreasing belly fat and gives a boost to your metabolism so that your body can process and digest food easily without accumulating any fats.
Avoid Stress: Taking too much stress can lead to weight gain. This is why you need to be happy and stress-free all the time, around your baby and keep your hormones in balance.
Do Exercise: Indulge in some easy tummy exercises in your home. Sit-ups, yoga, squats, leg raises, etc are highly beneficial and effective in cutting the fat around the stomach. Do them several times a week and increase the frequency when you feel the body is ready. Do not stress the body.
Follow a Diet Plan: Talk to your doctor and follow a plan without compromising the baby health. Start by including healthier foods that increase metabolism rate and stop pilling up fat in the body. Remember, you must not compromise the health of your baby in order to get into shape by following a diet.
At What Time     
Meal Plan Activity
Early Morning
 Fennel Water (1 glass)
Breakfast
 Milk Dalia(1 bowl), Mitthi Puri(1-2 pieces) or Egg(1 whole) in any form, 1 Banana/Orange
Mid Morning
 1 Basan or Gond Laddu
Lunch
 Bottle gourd(1 bowl), Moong Dal Khichdi(1 bowl), ragi chapati(1 piece),
Salad(1 Plate) & Curd(½ cup)
Snack Time
 Garlic Milk & Nuts in Your Snack Time
Late Evening
 Tulsi Tea(1 cup)
Dinner
 Ajwain Paratha (1 piece), 80-90 gms Paneer/Chicken/Tofu/Fish, Boiled Salad & 1 Harira
Bed Time
 1 Glass Badam Milk
NOTE: Along with the above, drink plenty of water, take sleep & exercise & massage regularly.
How to Avoid Accumulation of Fat on The Tummy?
As a new mum, you will be spending lots of time sitting and feeding your baby and relaxing by yourself. There will not be a lot of exercising that you can do, neither can you start a full-fledged diet plan as you are breastfeeding and your baby's growth depends on the quality of milk you produce. That's why you will have to take care of a few things to avoid any more fat build-up on your tummy after delivery.
Avoid Sugar: You will have to refrain from all sorts of sugary stuff as high sugar intake leads to fat accumulation. Now the trouble that you will face here as I did, would be that you will be asked to eat sweets in the form of laddoos and kheers as these foods are believed to help in increasing breast milk supply. However, be firm or have very small quantities of sweet goodies
Avoid Fried Foods: Oily and greasy food can be your enemy if you want to have a slim waist again. Yes, avoid those parathas and heavy fried snacks to the maximum
Avoid Junk/Unhealthy Snacking: Say no to calorie-packed foods like sodas, aerated drinks, cookies, chocolates, and chips. Opt for healthy snacking options like fresh fruits, yogurts, chivda, etc.
Avoid Stress: I know this can be tough with a new baby in hand but try to be stress-free as any stress can lead to hormonal imbalance leading to weight gain. Impossible as it may seem, but a good sleep and rest can actually melt that fat faster
Does Exercise Help?
As much as you would detest going to the gym, the fact is that exercising can be your best friend to lose that round, squishy belly after delivery. Once you complete 6 weeks postpartum, with advice from your doctors, you can start light exercises to cut down the tummy fat. Exercises like sit-ups, leg raises, squats, etc. have been proved beneficial. When teamed up with a healthy diet, you can see results as soon as a few weeks. This will not only give you are slimmer waist but also help you gain confidence, strength, and stamina that you would have lost after delivery.
I can understand how much you want to lose that tummy fat and I know you cannot wait to get back to your pre-pregnancy size. However, it is important to understand your body's requirements and how it affects your baby's health. Have patience and give your body the help it needs without burdening it. I am sure you will be back within months. Good Luck!
This content has been checked & validated by Doctors and Experts of the parentune Expert panel. Our panel consists of Neonatologist, Gynecologist, Peadiatrician, Nutritionist, Child Counselor, Education & Learning Expert, Physiotherapist, Learning disability Expert and Developmental Pead.
1. medlineplus.gov › Losing weight after pregnancy - MedlinePlus
2. mayoclinic.org › Belly fat in women - Taking and Keeping it off - Mayo Clinic
3. healthywomen.org › content › Tips for Losing Your Post-Baby Belly - Healthy Women
Kindly
Login
or
Register
to post a comment.