Parenting
Babycare
Health
Tried-tested Home Remedies for Cold in Babies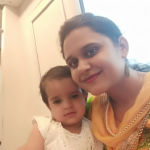 Created by Bharti Updated on Dec 29, 2021 One of the most widespread ailments among children is the common cold. As the season's change, colds spread among your tiny tots, which make them irritable. Due to the cold, babies become fussy and also lose their appetite. They behave cranky in this situation which also causes us, moms, a lot of stress! So, taking proper care of our babies is necessary to soothe their cold symptoms. [Check Natural Cold & Flu Remedies to Cope-up Better in Winter]
Is your baby suffering from cold & cough? 
Are seasonal colds troubling you and your baby?
Changing seasons bring various diseases and infections which affect our children making them irritable and uncomfortable 
Home Remedies for Treating Colds in Baby's
There are various home remedies for coughs and colds for babies, and by using these you can make them feel better. Here are some of the home remedies for treating colds among babies. Bharti shares some great Indian home remedies that can help relieve your child's cold symptoms. You can find relief in your own kitchen or medicine cabinets, read on to find out how…
Mustard oil -
Take some ajwain seeds and garlic cloves and roast them in mustard oil. Grind, and apply the paste on the soles of your baby's feet and chest. It will provide a great deal of relief to your child.
Garlic Cloves -
Take some garlic and make a potli (small cloth sack) of it and place it near your baby during the night. Your baby will feel better and more relaxed the next day.
Steam -
Give your baby some steam through a steamer or a steamy bath. It will give instant relief to your child. This will help soothe the cold in babies.
Helpful Read: What Foods to Choose During Cold & Cough
These are some of the home remedies which make your life easier and your baby more comfortable. I have tested these remedies myself. I also use these cures when my baby catches a cold and she feels better the same day! Using these remedies is quite simple and costs almost nothing. Try these easy remedies and make your child happy and healthy.
Did you find Bharti's easy home remedies for colds useful? How do you help relieve your child's cold symptoms? Do share your experiences and learning with us in the comments section below. We love hearing from you!
Kindly
Login
or
Register
to post a comment.
+ Start A Blog
Top Parenting Blogs
Top Parenting Talks
Top Parenting question